April 23, 2012
APRIL 23RD: UPDATE ON SURVIVOR NOW NAMED CHIKO! 
We got an email from our friend Nat Gabriela with new information about Chiko! It turns out he did not go to Eleven Eleven Rescue like we had previously stated…but he went to the care of Sophie's Dog Adoption! Chiko has been under the care of John Truss, another MDB friend! I was so happy to read the following information that was posted by Annie Primeau. You can always send a message to Annie Primeau through Facebook. Click here for her Facebook page. To see more pictures of Chiko click here.
By Annie Primeau – Remember Chiko AKA Survivor that was found in such awful shape last Summer by kind people who took him in that it even made the news? Well….Chiko was turned over to Sophie's Dog Adoption and spent several months in rehab with his foster dad and trainer John Truss The time has come to find Chiko a new foster home or a forever home.
Chiko has come a long way and is now very obedient. Since he was never socialized as a puppy, Chiko will always need supervision around other dogs. Although he has been wonderful around plenty, he still reacted badly around a few of them. As a precaution, SDA is looking for a dog-free home for Chiko or someone with significant experience if you already have other dogs.
Chiko got a really bad start in life but it didn't stop him from learning and showing trust and respect with people. He is eager to please and very bright. Chiko will need someone able to provide him with daily exercise, structure and consistent loving leadership. The last thing Chiko needs is someone feeling sorry for him. If you feel you'd be a good foster or forever home for this special guy, please message Annie Primeau .
Please share. Thank you (Montreal and area)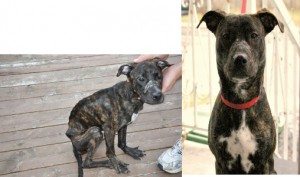 __________________________________________________________________________________________________________
Here are more pictures of Chiko:
————————————————————————————————-
On September 14, Montreal Dog Blog did a posting about Survivor, a dog found weak and emaciated around the area of Mercier.
Last night, we received an email saying that  unfortunately their current caregivers are not able to keep him anymore. Survivor, now named Chiko, is up for adoption and hoping to find a forever home. At the moment he still needs care to get him in top shape and he will be neutered before the adoption. If you would like to adopt Chiko please contact Caroline Chaussé at carochausse@hotmail.com