Sure, we're Montreal-based – but we love knowing about pet people all across this great country! Introducing Vicky Bowes. Originally from Shropshire, England – she's called Vancouver home for the past 4 and a half years. She's a pet portrait artist – but much more than that – she has a deep love of animals and uses her work to raise awareness about environmental issues.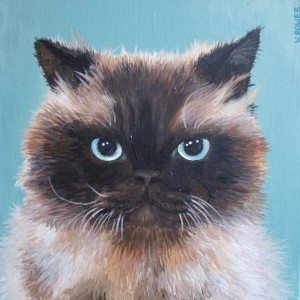 What was the inspiration behind painting people's pets? How many pet portraits have you done so far?
I first began painting pets as gifts for my grandparents who have always had King Charles Spaniels. They made great subjects as they are lovely little characters. I began using pencils, then moved on to watercolours, then since living in Vancouver I have been really into using acrylics.
The inspiration comes simply from my love of animals. As long as I can remember I have been drawing and painting animals, and having had many pets as a child I understand the bond people feel with their animal companions. Our pets are so intuitive to our emotions, giving us so much unconditional love and understanding without ever speaking a word. I think that's why pet portraits work so well as they can capture that look of understanding and act as a constant reminder of a perfect friend.
I actually have no idea how many I have done over the years, it could be close to 100, but unfortunately I have lost track!
Do you have a favourite subject? 
I love painting all pets, but I would say my favourite portraits to paint are usually all the squishy faced, wrinkly dogs such as Bulldogs, Pugs, Boston Terriers etc.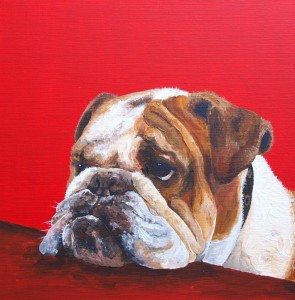 They have such funny expressions and it's so fun to watch them come to life as I paint each wrinkle! I had a Boxer dog, Henry, growing up and he had such a range of expressions. He was a master at pretending to be terribly sad if he wanted some attention and could have the biggest smile out on walks or playing with other dogs. He was awesome!
Do you have pets yourself?
I actually just welcomed a brand new puppy into our family. She's been with us for almost a month now. Her name is Tazi and she's an Australian Shepherd and she is honestly CUTE OVERLOAD!!! I'm so happy to be sharing my life with her. She's so smart already and has no end of energy. I'm sure there will be many a painting of her hanging on our walls.
Growing up we always had an array of cats, mostly strays that would adopt us, and when I was older we got a dog. I also had a hamster, Alan, for a couple of years. He was a real character! My parents still have our dog Saffron back in england and I really miss her. She's a Boxer/Staffordshire Bull Terrier cross and is absolutely crazy but very lovable.
What sizes are available for portraits and how do people get them done?
The sizes for the portraits can be any size you like. I custom make the canvases myself so they can be made to fit into a particular space you have in mind. The minimum size I paint is 10″ x 10″, any smaller than this and it becomes difficult to paint the all important details.
People can order my portraits by simply sending me an email (vicky_bowes@hotmail.com) with a good photo, the size and the background colour of their choice. I always encourage people to send me more photos if they have them so I can get a really good idea of the animal's character and correct colouring. Its even better if I can get to meet the animal in person!
Do you ship across Canada/USA? 
Yes, and worldwide!
Would you paint 'unusual' pets – not just dogs/cats? 
Definitely. I am waiting for the day when someone asks me to paint their pet tortoise or iguana. The most unusual paintings I have done so far are two cows and a giant painting of two horses (pictured here).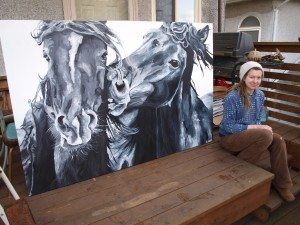 What environment message(s) do you like to impart with your paintings? Do you help charities?
Since being in Vancouver I have taken part in the annual West End Dog Show which helps to raise money for BC Guide Dogs, and have helped out with the adoption of a very sweet dog named Anno who was at the SPCA. I painted her a portrait then went on City TV breakfast television with her. She was adopted within a few days and her new family also received her portrait. I also recently donated a portrait to the annual Paws for a Cause fundraiser.
In addition to painting pets I also am an avid conservationist, in particular with regard to the ocean and I paint many pictures of ocean life. I hope that through these paintings I can deliver a message of the amazing life out there in the oceans that we often don't think about in our day to day lives and let people know of ways we can help to keep this beautiful ecosystem healthy. I volunteer at the Vancouver Aquarium and it's wonderful to be able to deliver this message to hundreds to people each day.
I think it's important to remember that we share this planet with so much other life and we are all ultimately connected, relying on each other for many things both emotional and physical, just like we do with our pets.
Vicky is offering our readers the chance to win a FREE pet portrait of their own pet! Enter here this week – and good luck!