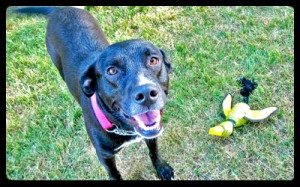 About Me: They call me Betty like Betty Boop because of my good looks, my fun loving nature and my appreciation for Jazz music. I often hear my foster mum say i'm 'the best dog ever' – because well, i am. I get along well with dogs, cats, kid of all sizes and ages, some of those kids have even bit me! Their parents told me they were Rabies vaccinated, so i should be ok. I offer free baby sitting services if needed, i'm a great nanny and will come and nudge you if your child is crying because it woke up from a nap or is hurt. I know exactly which baby belongs to who also – its their smells that tell me. I live with a cat in foster care named Duppy, he's a blast we love playing together, except sometimes he gets a little rough so i walk away and be the bigger dog (or man?). I'm also friends with two bossy Chihuahuas, but between me and you, they are pretty hostile so i just ignore them. My favourite activities include anything to do with water, especially if it includes my duck toy and water (i can't help my retrieving instincts). But i'm also an excellent frisbee dog, or catcher of anything you throw in the air. I may be an adult dog, but most puppies can't keep up with me! Although unlike most puppies, i know indoors means down time and i am happy to snooze the day away with you if its one of 'those days'. Although i am primarily a retriever, i am a very watchful pup and will always have an eye open for strangers – i know who your friends are and who are strangers. I take pride in alerting you to strangers on your property, all you have to do is let me know 'it's ok' and i will let you take care of the rest – i just want to make sure you are aware they are there. I'm a top notch companion if you ask me, and will make sure you are always safe if you make sure i am too. I am very devoted to my humans and want to make sure the next one will be my last, i'm pretty fed up of being moved around and just want someone i can love and who will love me right back.
D.O.B: April 1/2009
Color: Black and White
Size: Medium (50lbs)
Sex: Female / Spayed
ID Number: CA1120
Date Rescued: July  4/2011 (but had been at A.M.R shelter since April)
Approximate Breed: Labrador (Mix)
Requirements for adoption: Betty will not be adopted to an apartment setting, she needs a large house with a big yard and would not do well in a condo or apartment setting. She needs an experienced dog owner.
Betty is up-to-date with routine shots, microchipped, treated for worms and fleas, has learned basic obedience, crate trained, house trained and sterilized.
See Betty in action in her  – Adoption Video
Apply to –  Adopt Me!