A Montreal Dog Blog Howl O' Ween!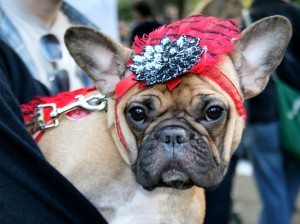 UPDATE: Congratulations Loco!  Who garnered the most votes and won our Halloween Contest! Check out our 5 finalists and the winning entry by clicking here! Thanks to all the dogs and their owners for having some fun with us this Halloween!
Submit a picture of your dog dressed in a Halloween costume for chance to win a $50.00 gift certificate from Montreal Dog Blog and Bring Your Dog Home.com
All you have to do to enter –  is join this new Facebook page:   "Bring Your Dog Home"
Then, post your pic on that Wall – along with the dog's name, age and where you live.
We will then choose the top 5 photos on Sunday October 30th and have our fans vote on the winner until midnight Oct 31st.
Show us your Party Animals and your Horror-ific Hounds now!
(Only YOUR dog or someone you know may qualify. Please, don't cheat – no photos from the internet –  cuz we'll know!)
You don't have to be a Montrealer to win this one – so get going!  And Happy Howl O' Ween!!