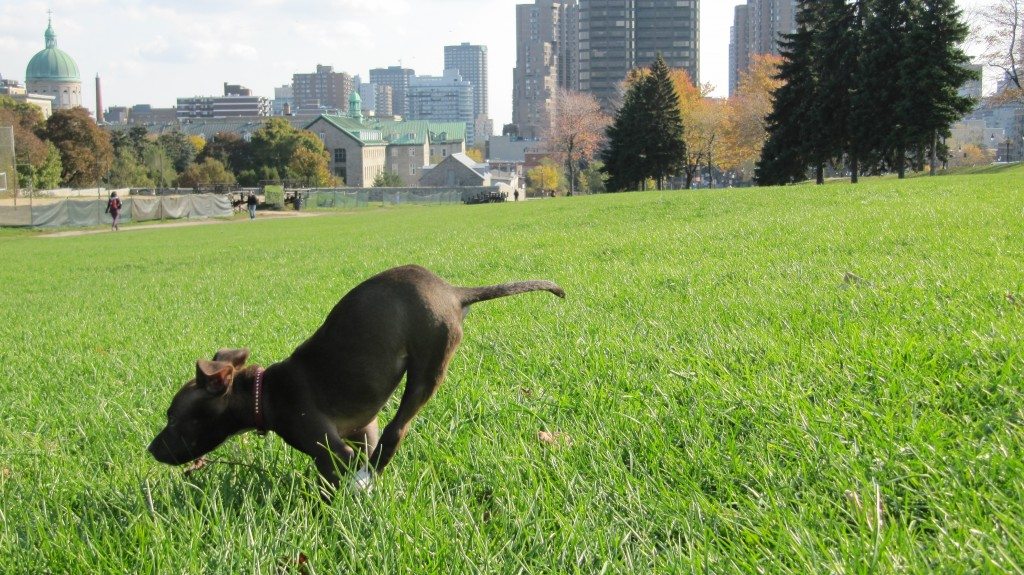 Ruby-Sue has now been with me for 2 weeks. Which does not seem like long, but in puppy time, it is! I find it takes at least 12 weeks for dogs to really adjust to new homes, whether it be an adoptive or foster home. Ruby-Sue is just now starting to really get into our routine, she knows which building is ours, which door is ours and runs right too it when we enter the hallway. She knows exactly what comfy spots to sleep on in the apartment, and when feeding time is. But what really melts my heart, is how excited she is to see me in the morning or when i come home, and in group settings she looks and smells the ground to find her way back to me. It breaks my heart seeing her get attached to me, getting comfortable in our routine, knowing eventually she will have to start from square one with a new family (when she is ready to be adopted). I feel like a traitor, gaining her trust and love only to throw it all away and re-home her, for ultimately her best interest in the long-run.
I'm not going to lie, i am head over heels for her. I love every minute i have her in my life, and when she gets adopted, i will think of her every following day for the rest of my life. I would keep her as my own, but my pups would hate me for it, and keeping her means others like her will not get the same chance. There isn't a foster i haven't fallen for, seriously contemplated keeping, loved as my own – i think thats the key to fostering, love each at your 'own'. But the other key to fostering, is ultimately finding homes better than you could ever offer them, which would only make you feel incredibly selfish to not adopt him/her to them. For now, Ruby-Sue is a long way from being able to be adopted.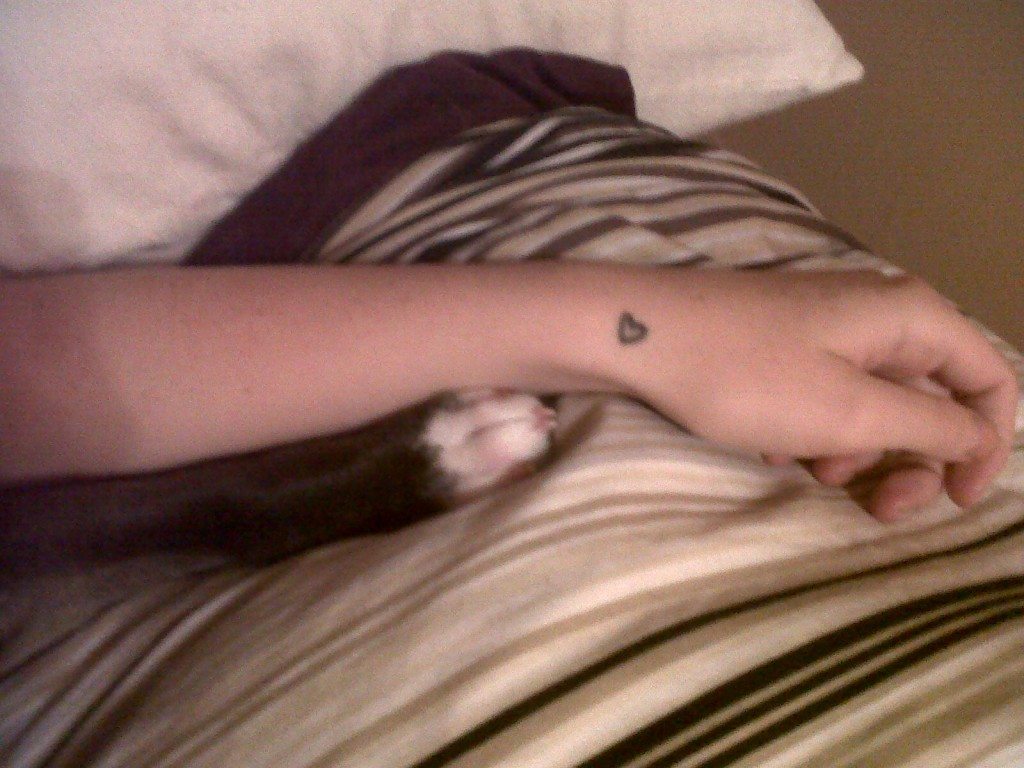 In the past two weeks she has double in weight, and tripled in energy. She's is getting stronger each day, her shoulders are slowly gaining the muscle to carry her body. She's learnt some great manners, and met over 50 people and dogs – she is getting really good and meeting pups of all sizes (being 'raised by chihuahuas' helps give her great respect for little dogs), and learning not to nip especially when meeting people. She's replaced nipping with showering people with kisses, which is perfectly acceptable, and wagging her tail so hard she looses balance and flops to one side.
This week particularly she's starting to look more like a pit-bull, but still not enough that people are hesitating to hold and pet her. Usually they have her in their arms, and she's showering their faces with kisses by the time they ask me what 'kind' of dog she is. Once they hear she is a pit-bull mix i usually get two responses, some people slowly put her down and walk away in fear (while she waddles after them with her tail wagging not understanding). Most people fight me on it, and either deny that she has any pit in her or emphasize that she must be sweet because she's a mix breed. My response is she is as pure-bred as any pet-store, or back-yard bred puppy of any breed. But another common response, my favourite, is; she's so sweet, it really must be how people train them, not the breed. Every day with her is an opportunity to open eyes, and her handicap does help people put down their guard about 'the breed'. They look at her as a sweet, innocent puppy, before they even get a chance to judge her for her breed.  And she sure is a great ambassador, she's sweet as can be, very polite when meeting people, dogs and cats, and listens extremely well to my guidance.
Still despite being smaller than the average Shih-Tzu, and handicapped, some people still fear her as soon as they realize she has any 'pit-bull' in her. Which is sad and frustrating for me to see, how much damage the media and ignorance has done to the breed. Fostering her comes with its baggage, like having to deal with mind-blowing ignorance on a daily basis. This weeks out-standing ignorant comments were; one person saw her for two seconds on the street and felt the need to stop and tell me to give her 'the shot' – a common and incredibly insensitive french way of saying 'put down'. I asked him if he stops handicapped parents to say that as-well about their kids, he couldn't understand the human-animal comparison. We are both equally sentient beings. Another person said; she will never find a home, because people who want 'pit-bulls', won't 'want' one 'like her'. Like i would adopt any pit-bull handicapped or not to idiots with masculinity issues – that is exactly what we save them from, and who she was bred (and dumped) by. Most comments  i don't think much about, but few really get under my skin.
Now on the down side, a few things that have worried me this week is that she is showing signs of incontinence, and is 'using' her back legs less and less. She is also dragging her feet more, which soon enough with start causing skim abrasions, so she will probably start needing protective booties soon. We are in the process of booking an appointment with a highly recommended neurologist at the Saint-Hyacinthe Veterinary School. We will know more about her condition after this appointment.
In the mean-time, Ruby-Sue's happy as can be.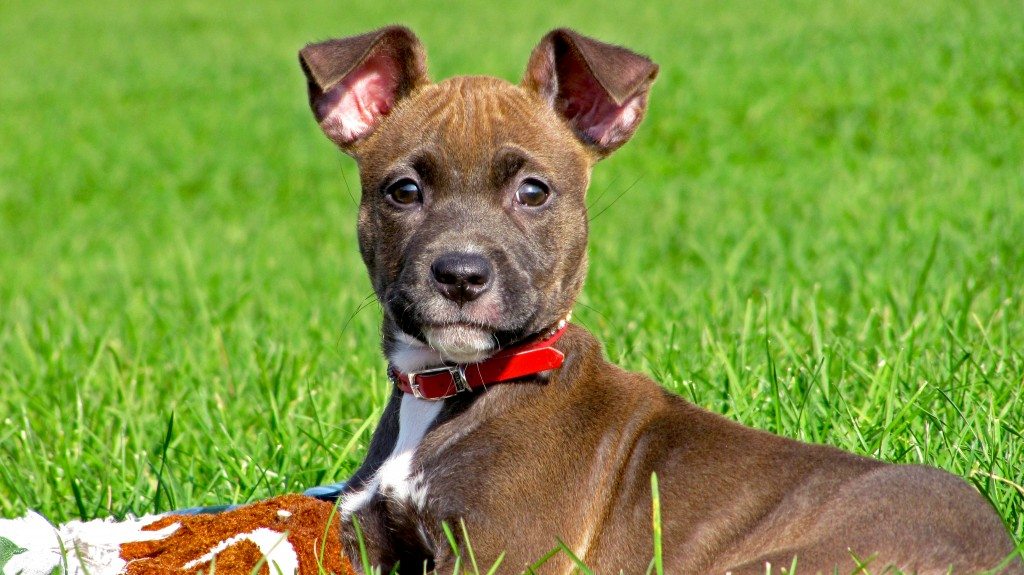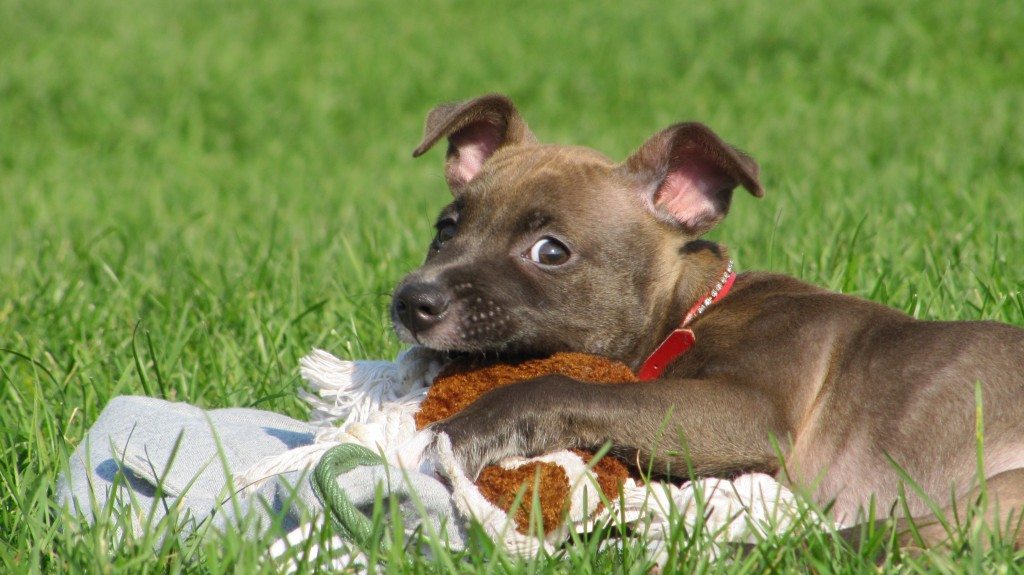 —
Sincerely
Caroline Ross, A.H.T/T.S.A
Founder, Eleven Eleven Animal Rescue
Adopt a Pet, Save a Life
www.elevenelevenanimalrescue.org
Through adoption, sterilization, identification, and education, we hope to one day live in a community where homeless animals do not exist.