Happy to share this press release with you  – what an excellent initiative all-round! 
MONTREAL SPCA PARTNERS WITH LOCAL FOOD BANK AND VETERINARY CLINIC IN NDG TO REDUCE CAT OVERPOPULATION
Monday October 31st – A coalition of organizations have joined together to help reduce cat overpopulation in the Montreal neighbourhood of CDN-NDG. On November 6th, 30 cats belonging to clients of the NDG Food Depot (a local food bank) will be sterilized at the Monkland Veterinary clinic, free of charge for the clients.
This spay/neuter day is a culmination of efforts between the Montreal SPCA (MSPCA), the NDG Food Depot, the Monkland Veterinary clinic and the Municipality of CDN-NDG. "We are so excited about this proactive initiative to deal with the cat overpopulation crises – which is a direct result of cats being left unsterilized in the community" said Alanna Devine, Director of Animal Advocacy at the Montreal SPCA, "we hope that this encourages other community organizations and veterinarians to participate in similar events".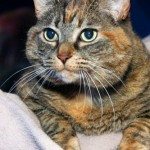 The costs for materials used in the special spay/neuter day is being covered by the MSPCA with funding from the Municipality of CDN-NDG for spay/neuter related projects. The veterinarian, Dr. LeBlanc and her staff of technicians are donating their time. " At the Monkland Veterinary Clinic, we are deeply concerned by the ever growing number of unwanted companion animals in Montreal" said Dr. LeBlanc "we are strong advocates of responsible pet ownership through sterilization and are proud to be able to participate in this wonderful initiative."
There are many cat owners in the community who have been educated about the overpopulation crises with cats, but who are not necessarily able to afford the cost of spay/neuter surgery at a private veterinary clinic. "Pets are very important to many of the clients of the NDG Food Depot "said Mathieu Forget Intake Coordinator at the Food Depot, "initiatives like this one enable our clients to keep their animals and to ensure that they are being responsible pet owners".
Veterinarians or community organizations that are interested in participating in similar events are encouraged to contact Ms. Devine for further information.
For further information contact:
Alanna Devine, Director Animal Advocacy
Phone: 514-735-2711 ext. 2245,
E-mail: adevine@spcamontreal.com