Snag some incredible artwork at incredible prices – for an amazing local cause!  Some of these artists sell their works for hundreds or thousands of dollars! 
Wildcard Art Market 
Artists To Raise Funds For Le Nichoir Wild Bird Rehabilitation Centre
PREVIEWS: Sat & Sun November 5 & 6 – Canadian Aviation Heritage Centre, Sainte-Anne-de-Bellevue
SALE:  Saturday November 19 – Centre Sportif du Collège Sainte-Anne, Lachine
For the second year in a row a local group of dedicated wild bird rehabilitation volunteers and a bevy of visual artists have teamed up for an innovative fundraiser sure to please art lovers and nature lovers, alike. The Wildcard Art Market features 600 works of art from 300 Canadian artists. Each of the donated works are sold for $65 but the intrigue lies in the fact that purchasers only learn the artist's identity after the sale is done. The Art Market raises funds for Le Nichoir, a local non-profit organization which is the largest songbird rehabilitation centre in Canada. The Wildcard event's goal is to raise enough funds to allow Le Nichoir to move its operations out of the 175 year-old barn that currently serves as its headquarters.
Last year's Wildcard Art Market created quite a buzz amongst art collectors. This year the public have the chance to purchase works from artistsas diverse as Linda Rutenberg, Myles Goodwyn of April Wine, Melinda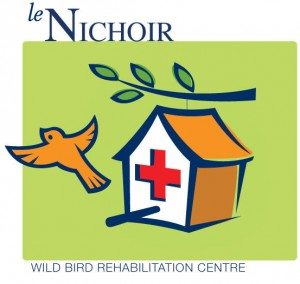 Brewer, Brigitte Radecki, G. Scott MacLeod and Gathie Falk RCA as well as local artists Martha Markowski and Edyth Généreux. For only $65 you can walk away with a work from an internationally renowned artist, member of the prestigious Royal Canadian Academy of Arts or discover some exciting new local talent. The accompanying silent auction will also feature works from artists such as Robert Bateman, Danielle Scheffer, Bill Vazan RCA and Marcel Braitstein RCA. Bateman has been instrumental in the fundraising process, adding that "I have followed and supported the work of Le Nichoir almost from its beginnings over 17 years ago and I'm very pleased to see how artists from across Canada have come together through the Wildcard project to support Le Nichoir in its efforts to build a new wild bird conservation centre in Hudson."
Submissions of original paintings, photographs and mixed media came from artists across Canada, from Vancouver Island to Fredericton, N.B. And to keep everyone guessing, all works in the sale are in a uniform 5" X 7" format, making it more challenging to connect art and artist.
The sale takes place on Saturday, November 19 at the Centre Sportif du Collège Sainte-Anne, 1250 St. Joseph Blvd in Lachine.
Tickets are available only in advance for $40, see www.lenichoir.org/wildcard for details.
"The works of art will be sold at $65 each, so purchasers can help Le Nichoir, discover some great art, while running the chance of snagging a bargain on artwork done by established artists. $65 also represents the dollar figure that Le Nichoir volunteers attribute to the average cost of rehabilitating birds up to the point of being re-released" explains Lindsay D'Aoust, coordinator of the event. Serious art enthusiasts can get a leg up on the competition by purchasing one of only 20 Jump The Queue tickets at $150, which allow the purchaser to be among the first 21 people to choose their purchases. All other regular ticket holders will enter the sale after the first place in line is determined via lottery.
Thanks to Les amis de la montagne and the Canadian Aviation Heritage Centre, the public is invited to preview the Wildcard collection at two locations this year. This is your opportunity to plan your purchases for the November 19th sale or, just enjoy the collection in a relaxed atmosphere. Volunteers from Le Nichoir will be on hand so the public can learn more about Le Nichoir and the New Centre project.
Preview the artwork THIS WEEKEND: 
Saturday, November 5 – 10 am to 4 pm / Sunday, November 6th – 10 am to 4 pm
Canadian Aviation Heritage Centre,
Sainte-Anne-de-Bellevue.
The CAHC is located in the old stone barn on the Macdonald campus of McGill University. The barn has been transformed into an aviation heritage centre and the Wildcard preview will be held in the Godfrey Pasmore Art Gallery.
Online preview of all Wildcards will be available from November 8 to 19 at www.lenichoir.org/wildcard.
About The Artists:
Amongst the many artists who have graciously offered artwork to the Wildcard Art Sale, here are but a few:
Michel Goulet represented Canada at the Venice Biennale and was awarded the Prix Paul-Émile Borduas for visual arts.
Pnina Gagnon's recent exhibition in 2010 was at the Montreal Museum of Fine Arts
Bruno Bobak RCA, War artist, instructor, engraver, sculptor and painter. Recipient of the Order of Canada. More than 80 solo exhibitions in Canada and internationally.
Members of the following West Island art associations have stepped up to participate in large numbers.
L'Atelier de peinture de Lachine
Artistes Hudson Artists
Lakeshore Association of Artists
Beaconsfield Art Association
Association des artistes de Saint-Laurent
Kirkland Artists' Association
Artists Circle
Dorval Artists' Association
About Our Sponsors:
The generosity of event sponsors including, Brasserie McAuslan, Barefoot Wine, Papeterie Saint-Armand, Galerie Ouest, Au Atelier de dorure, May's Studio and many others, has ensured that the Nichoir benefits entirely from the Wildcard sales. The full $65 selling price goes directly to Le Nichoir.
About Le Nichoir:
Le Nichoir Wild Bird Rehabilitation Centre is a registered non-profit organization located in Hudson. Founded in 1994, the Centre has cared for thousands of wild birds, including hundreds of ducklings and returned them to their natural habitat. Le Nichoir hires students for the summer to provide daily and necessary care but volunteers are also at the heart of daily activities. Le Nichoir has become an educational resource well known for its expertise and is the largest rehabilitation Centre for songbirds in Canada. Le Nichoir's mission is to conserve wild birds as part of our natural heritage. For more information about Le Nichoir contact Susan Wylie at 450-458-2809 or info@lenichoir.org or visit www.lenichoir.org.