Look for Eco Pooch shampoo at all major drugs stores across Canada!  We love it because it's 100% vegan, hypoallergenic, free of SLS/sulfate, DEA and parabens – and they also donated $1000 to the Lions Foundation of Canada Dog Guides!  Read below for more about this pet-friendly grooming product from the makers of Live Clean! 
Win Yours!
Right now, join the Montreal Dog Blog Facebook Page and post a photo of your dog (in the bath OR looking like he could USE a bath!) along with one thing you've learned about Eco Pooch (just read below!) (No internet photos – your OWN dog please!). This week, 5 lucky people will win one of 5 great shampoos:
Eco Pooch Ultra Moist Hydrating Shampoo (chamomile and conditioning oils)
Eco Pooch Sensitive Skin Oatmeal Shampoo (soothing oatmeal and rich moisturizers)
Eco Pooch 2-in-1 Conditioning Shampoo (added conditioners for silky, shiny coat – while thoroughly cleansing)
Eco Pooch Super Deodorizing Baking Soda Shampoo (natural baking soda and ordernone – a trusted source of odour elimination)
Eco Pooch Gentle Puppy Tearless Shampoo (specially formulated for delicate puppy skin)
About Eco Pooch:
The line was developed by the makers of Live Clean, the successful Canadian company that created all the wonderful green personal products. They have grown from 3 shampoos and 3 conditioners in 2007, to over 50 different product lines including body wash, soaps and hair products. Live Clean has built a reputation as the first Canadian company to bring green, pure products to the drugstore level and do at an incredible price. They have managed to do this without sacrificing the experience or the efficacy of the products – they truly are luxury products at mass prices.  Introducting Eco Pooch, a line of pet friendly grooming products from the makers of Live Clean.
In keeping with the current trends which indicate dogs are the most popular pets of choice, and the fact that North Americans spend close to $11 billion a year on pet products, it's no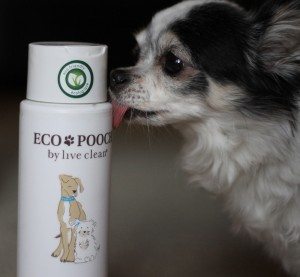 wonder that Live Clean has ventured into the dog grooming market. And, what better way to show our love and devotion for dogs than by showering them with products that are environmentally safe.
Moreover, there are a number of environmental concerns that affect pets as much as humans. Studies conducted by the Environmental Working Group, indicate that pets have higher levels of toxins in their bodies than humans. They found numerous toxins in pets, including chemicals released from non-stick pans and metal, phthalates from plastic bowls and toys, and toxins from fire retardants in bedding, furniture, house dust, and food. The same study found that dogs have a higher risk of cancer along with numerous other behavioral and reproductive problems.
As we are all probably aware the "green" movement isn't just limited to people and Eco Pooch is a great example underscoring an emerging area in the pet grooming market. The ingredients are: SLS/Sulphate Free, DEA Free, Paraben Free, and Phthalate Free, all of which are known to be harmful chemicals that can cause chemical sensitivity, irritation, asthma, and other respiratory, immunological and neurological conditions. As a result, the products do not contain any harsh preservatives or unnecessary additives, and the formulations are enriched with certified organic botanicals, and only plant sourced or non-petrochemical ingredients are used. The end result: grooming products that are safe and chemically free for dogs, people and the environment.
Eco Pooch by Live Clean touches on a number of important newsworthy ideas which include the environmental focus, lifestyle trends, and the fact that the eco dog business is a growing market. As well, Eco Pooch makes for a great Holiday gift item for those that cherish and adore their dogs.