Remeber Remi? (If not – See our first post on him here) Let us do a very quick re-cap, he was found running on the rail-road tracks by a good simaritan in July (2011). He had open wounds, toe-nails falling of, open cuts on his pads and was so itchy he chewed his paws right down to his muscles. After a month of trying to care for him she reached out so he could have the medical care her needed. August 26th – we took him on, medical care and all.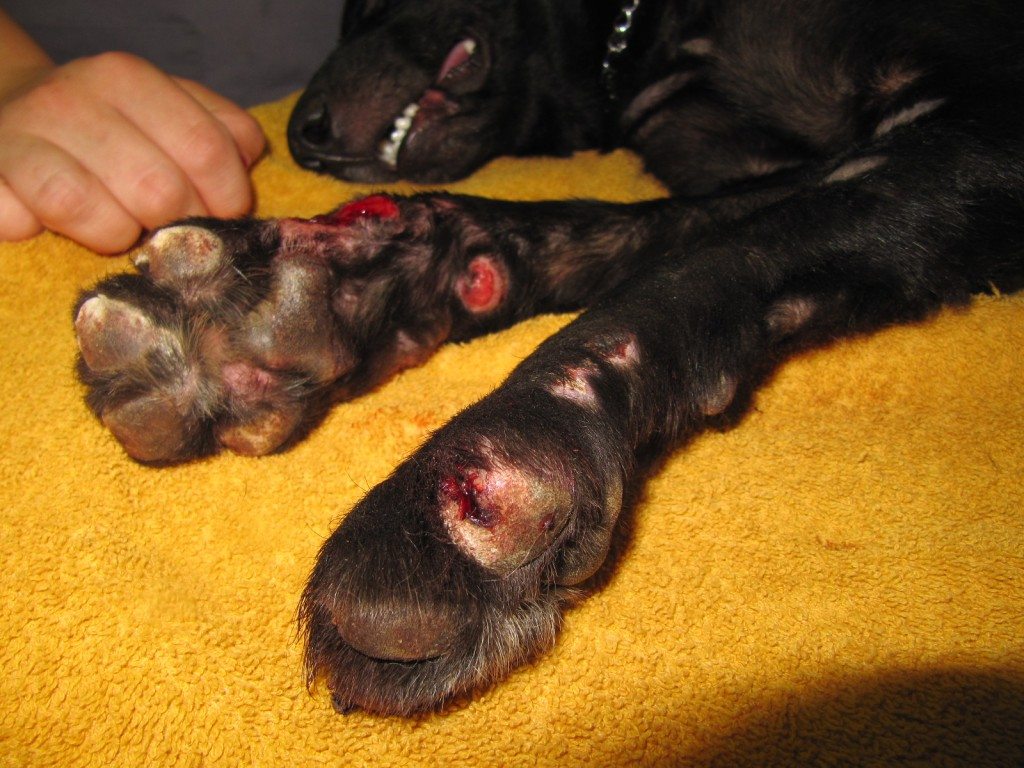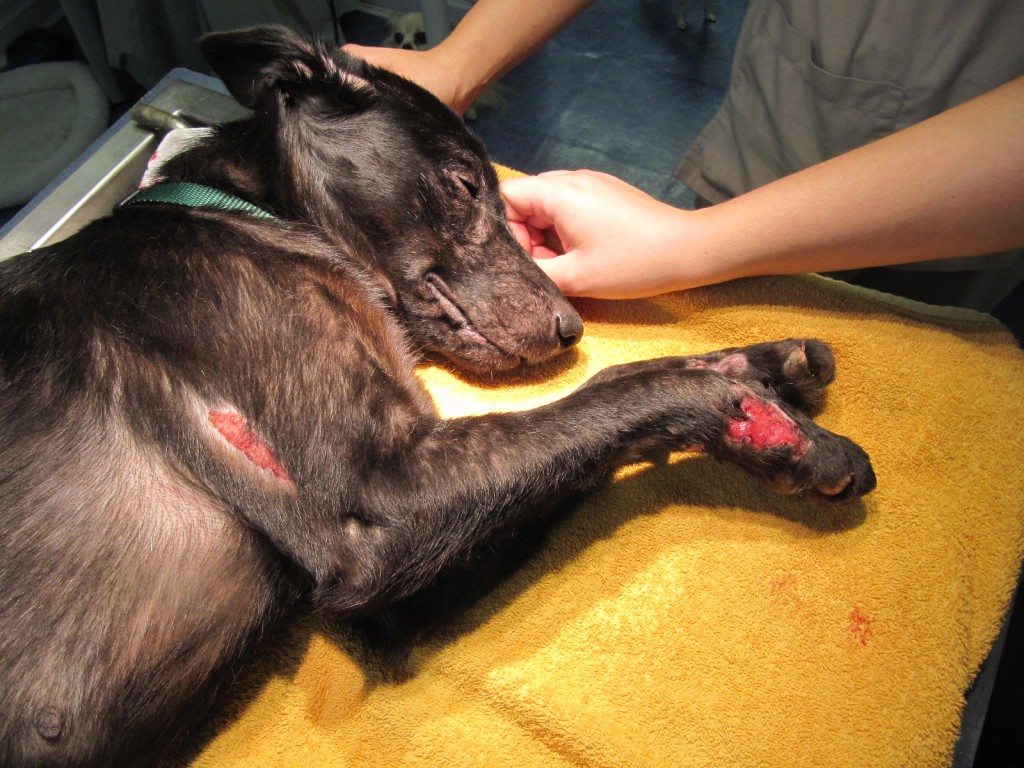 Since August 26th, he had a biopsy of his lesions done to confirm our suspicions of allergies – and rule out bacterial, fungal or parasite infection being a cause. He has been on a hydrolyzed protein (hypoallergenic) diet, has had almost weekly visits to the veterinary clinic, has been on anti-inflammatory and anti-histamine medication, gets medicated baths and has had to keep that big goofy cone on 24/7. It has been over 2 months now, and he has healed wonderfully – thanks to his foster mums quality tender, love and care – but will still chew his paws right back down at any chance he gets. We believe that his self-trauma habits are not just related to allergies, but a behaviour issue that is triggered by stress. We also believe he has food and environmental allergies. However either way it takes a bare minimum of 3 months to notice an improvement in allergies, which he is only two thirds there – and hopefully winter months will eliminate what may be causing his environmental allergies.
What has really helped, Remi's foster mum taught him to chew on nyla-bones instead of his paws, and her efforts of tlc, bandaging and correcting his behaviour of chewing has definitely paid off;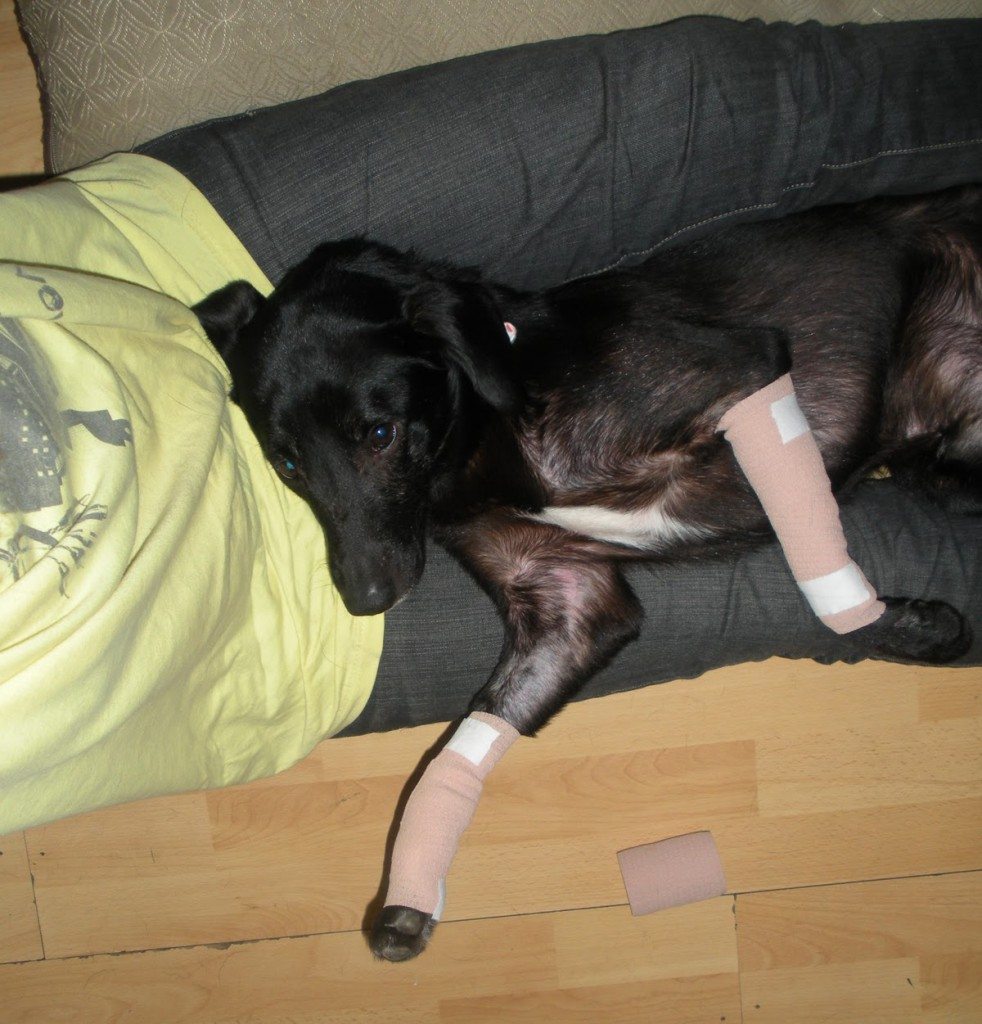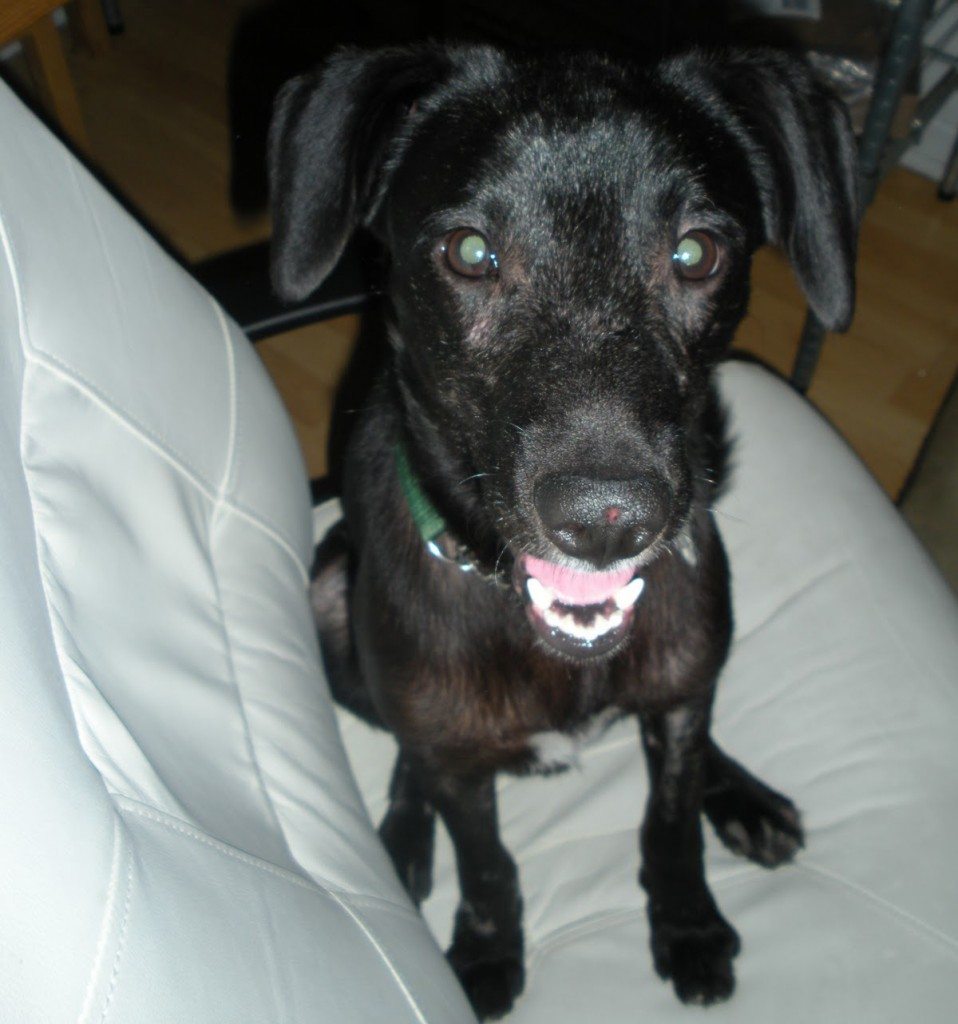 Remi's foster mum says; 
Remi is a little unsure when he first meets you and might bark a bit but once he gets close he is sure to climb into your lap and slather you with kisses. He is affectionate and a total ham for having his butt scratched, especially since he cannot reach to scratch it himself around his gigantic cone. Remi has such an amazing attitude about life and has no objections about taking his medicine or having his cone put back on after going outside for potty breaks.
He has recently discovered how to play and is making up for lost time! Fetch is one of his favorite games and will do just about anything to get you to throw a ball for him. He is extremely food oriented and highly intelligent, which means that teaching him new things is effortless. He can sit and stay and will give his paws for kibble treats. He is a model canine in our house and is fully house trained and only chews approved toys.
Remi is an easy dog and is happy to be near you and quietly rest or chew on a toy. He follows me everywhere and will do the same with you. He really loves to snuggle and is a big fan of doggy beds. He is still going on short walks because his paw pads are still healing. It would be great for someone to take him to a grassy area where he can run off leash. Aside needing more socialization he is an exceptional dog and quickly warms up to anyone that comes into our house. Did I mention that he likes to play dress up and that he gets so excited when I come home from work that his lip curls up and he sneezes like crazy? Dogs don't get any better than this.
Read more about Remi's adventures in foster care in his foster mum's blog Little Dog in a Big Cty!
*Remi is in need of a new foster home, so he can get more one on one care while his current foster mum can get more one on one time with her teenage pups, if interested in fostering please see here; http://www.elevenelevenanimalrescue.org/fostering.html or email fostering@elevenelevenanimalrescue.org
*ALL medical care, and food costs 100% covered. All you need to do is open up your homes and hearts. 
—
SincerelyCaroline Ross, A.H.T/T.S.A
Founder, Eleven Eleven Animal Rescue
Adopt a Pet, Save a Life
www.elevenelevenanimalrescue.org
Through adoption, sterilization, identification, and education, we hope to one day live in a community where homeless animals do not exist.