Please share!
Do you know this little dog? (more pics below)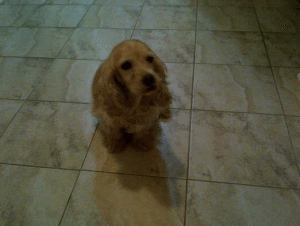 FOUND:
Female cocker spaniel
King Edward and Fielding in N.D.G  Sunday, Nov 6th around 5 or 6pm
Reports have been made with: spca, posted on kijiji, craigslist, FB, spca, etc and so far no one has reported her missing.
About 20lbs
Brown eyes
Short tail
 no collar
 Medium length blond hair
 Missing a tooth on the bottom
 Seems old and a little slow
 Very quiet and sweet
Has a slight limp on one back leg
Please contact: 
contact #s have been removed as this lucky dog was adopted by those who found her! 🙂