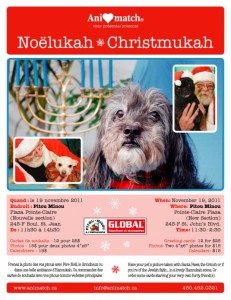 HO HO HO!! Believe it or not, it's that time of year again!  Jolly ol Saint-Nick is coming to see if our pups have been naughty or nice!
Come join us on November 19th at Pitou Minou in Plaza Pointe-Claire to kickoff the holiday season at our annual Christmukah event!  We invite you to come and take your picture with Santa, enjoy all kinds of goodies including: Holiday Items (for everyone) and Barney's Biscuits (for the doggies),
So come out and meet some of our adorable adoptees & help us kick off the holiday season the ANIMATCH way!!
Event Details