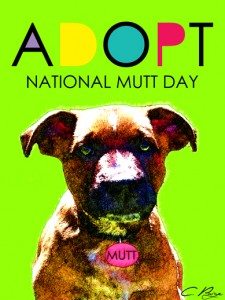 The second day of December has been designated National Mutt Day. The National Mutt Day site explains that Celebrity Pet Expert and Animal Welfare Advocate Colleen Paige named this day on 2005. The purpose of recognizing this day amongst animal advocates is about embracing, saving and celebrating mixed breed dogs. Although at the moment there is a "hype" of people wanting to adopt pure breed dogs from the victorious seizure of a bit more of 600 dogs from the puppy mill Paws-R-Us, let us remember that there were other dogs waiting to be adopted and there are so many more in the Quebec pounds waiting to be adopted. They may not be pure breed, but they have the same value as any other fancy dog in town. According to the information of this campaign, the biggest percentage of dogs euthanized in the shelter each year are unwanted, medium to large mixed breed dogs, due to the constant over-breeding and public desire of designer dogs and pure breed puppies that are sold to pet stores supplied by puppy mills that often produce ill and horribly neglected animals.
So to all of you that are lucky enough to have a member of the family being a mutt, be a proud and loud parent. You have rescued a dog that had less chances than the others. You have saved a life that has no fault for having a bit more distinctive and confusing traits than those that are pure breed.
PetMD.com has put together the top ten reasons dog lovers should adopt mixed breed dogs(aka mutts).
10. They are unique – The standard for breeding purebreds calls for breeding puppies whose appearance and temperament are of exactly the same quality every time. A mixed breed dog is awesome because without these standards, the dog is more unique.
9. They are more flexible – Mixed breeds are thought to adjust more easily to a variety of households and living conditions, whereas purebreds tend to be bred with a specific skill set in mind, such as herding or hunting.
8. They can still compete – Think you need to purchase a purebred in order to enter dog competitions? Think again! Mixed breeds can compete in agility competitions through groups like the NADAC.
7. They can still be trained as service dogs – Training for service dogs is no longer limited to just purebreds. Mixed breeds are now considered equally capable in this regard.
6. Housetraining is provided – Many mixed breeds found in shelters did belong to someone before – people who couldn't keep them due to allergies, relocation, or for some other reason. Because of this, many mixed breed shelter dogs come already housetrained. A definite plus!
5. You can skip the puppy stage – While many pet owners cherish the puppy stage, there are others who just don't have the time and patience for training a puppy. With a mutt from the shelter, you have the choice of adopting a young or adult dog over a baby. In these cases, the dog's size and temperament will more or less be set, so there will be fewer surprises in the future.
4. They have fewer health issues – There are some people who claim mixed breed dogs are healthier than purebreds. While this isn't proven, it is known that certain purebreds are more prone to specific illnesses. Mixed breed dogs are thought to be less likely to develop these illnesses because they have fewer genes of the same breed.
3. They have cheaper start-up costs – Many shelters only require a $50 to $200 donation in order for you to adopt a dog. Purebred dogs can run up to and over $1,000. Plus, a mixed breed from the shelter is likely spayed or neutered and is up-to-date on vaccinations. [ Personally, I do not agree with promoting shelter dogs as being more economical than buying at a pet shop. People have to understand that they are paying an ADOPTION FEE and not funding into the business of producing animals while there are so many that die in pounds and shelters. People have to be aware that MOST of the dogs sold at pet shops come from puppy mills]
2. You're saving a life – Adopting one means you are directly saving a life, a fact your grateful new dog will not soon forget.
1. Their awesomeness will rub off on you – A mixed breed dog is for the adventurer in all of us. When purchasing a purebred dog, you're buying a specific temperament that has been honed through strict breeding practices over a long period. With a mixed breed, a puppy especially, the unknown genetic line leaves all that up in the air. Appreciate the spontaneity behind this and that makes you awesome by association with the awesome mutt you've chosen to adopt!
There are millions of loving and healthy mixed breed dogs sitting in shelters, which are desperately searching for a new home. Muttspace.com mentions the top 5 celebrity Mutts that we have all come to know and admire
Rin Tin Tin: He started first (1922), and blazed the trail for all other canine performers to come. Hollywood Walk of Fame, 26 movies, countless television portrayals…all this and he was found in a bombed out dog kennel in France during World War I. This of course, before migrating to the West Coast of America and turning Hollywood on its paws!
Lassie: Lassie's popularity is due in large part to the television success achieved over a 20 year run. The breed and the ideal of the dog are far more memorable than a specific pooch. There were actually several Lassies (duh!) used during the filming of that small screen gem. Humble beginnings in the Saturday Evening Post, and still a model to this day.
Higgins. That's right, you read it correctly! Higgins! No, I'm not going to launch into some soliloquy spouting off Magnum P.I. lines. I'm simple honoring the true recipient of our entire movie going praise over the last couple of decades. Higgins was the original Benji. Following Higgins' original contribution to major motion pictures, much like the Courageous Collie honored above, there were several actual dogs that played the part. Rather than honor the human who created the captivating movie franchise (latest release in 2004!), we choose to pay tribute to the original Tenacious Terrier. Higgins!
Toto. Although we're talking about a character again, rather than a specific dog, we had to include this intrepid traveling companion in the top 5. Terry was the original mutt in the movie back in 1939, and rumors surround as to what breed Terry was. From Boston Terrier (NOT!) to Yorkie, controversy continues to spin! We're going with Cairns Terrier. Aside from saving the day, it's also rumored that Terry raked in about $125 a week. Compare that to what the munchkins were making ($50), and figure out who the real star was!
Snoopy: he most successful mutt on this list. With theme parks, current running comics, TV specials…etc., this pooch rakes in the dough. And remember, he did all this without uttering a single bark.
So please visit your local shelter and find a new friend today! If you can't adopt a mixed breed friend please donate at least $5 to your local animal shelter, volunteer to walk a dog or ask for your local shelter's wish list and see what is that they need the most!
[youtube]http://www.youtube.com/watch?v=vSn9dzjlOpc[/youtube]
These are my 2 Furkids Nanners and Shenna. Both are Rescues. Although their vet documents claim that Nanners is a Wire hair Jack Russell Terrier and Shenna a White Westie…I see a lot of MUTT in them.