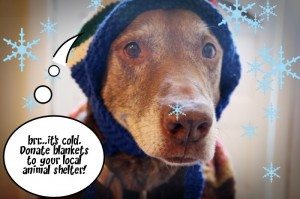 A SPECIAL EVENT AND REQUEST FROM OUR FRIENDS AT MONTREAL SPCA.
Dear SPCA Supporters,
We have an original request to ask. Santa Claus heard us.  We received a large quantity of fabric rolls.  All we need to do is to cut them into nice little blankets to make nice blankets of all sizes for cats and dogs.  So on December 9, we are organizing a cutting session. All you need to do is to bring your own fabric scissors.  Paper scissors don't work and will cause you blisters.If you are interested to join this cutting session, please let me know.Again the cutting session will be held on December 9, from 1 to 3 p.m.
Louise Allard
Coordonnatrice des bénévoles/Volunteer Coordinator
SPCA
5215, rue Jean-Talon Ouest
Montréal, Qc
H4P 1X4
514.735.2711, poste 2243
Télécopieur : 514.735.7448