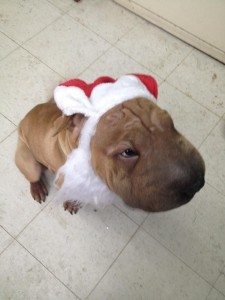 We have all been waiting for this day to arrive. After being the best Foster Mom ever, Tara Garland has a last installment on Stanley.
A Forever Home for the Holidays-
This year my family opted not to celebrate the holidays with gifts but rather focus on enjoying the company of loved ones.  Though there were no presents to unwrap I got the best gift I could possibly ask for-Stanley spent Christmas in his forever home.  A very smart woman once told me "the trick to fostering is to find a home for your foster that is so good it would be selfish to keep them"-this couldn't be more true.
Stanley was officially adopted last Wednesday after a two week trial at his new home.  From the first e-mail I received from Stanley's new mom when she was inquiring about Stanley I could tell she was a loving, caring and responsible person who would give any dog a great home.  She came to meet Stanley all the way from Quebec City and it was clear she was from a family of dog lovers-her family was checking on how the meeting was going via text message and it became clear-if she adopted Stanley he'd not only have his own family but an extended family of humans and dogs.
During his trial visit he showed her the best and the worst of himself.  A sweet loving dog who went potty in the house.  Since Stanley appeared to have not been house trained when he came to me I was not overly surprised that he was having a set back in a new environment.  She remained committed to working on this and did so successfully during which time she of course found him as charming as I did , and let me know she was ready to adopt him.
I was fortunate to have the opportunity to take him back the night before his adoption to hang out with him one last time and say goodbye.  When she dropped him off for the overnight she stayed for a few minutes so we could organize the plans for tomorrow.  While she was there he couldn't have cared less about me, this might sound sad to some people but as a foster parent this is a good thing.  He was totally in love with his new foster mom and I felt confident we'd made the perfect match.
People ask me often if I'm sad to let him go, of course I'll miss Stanley but his home is so great I can't be anything but happy.   Stanley went to Nova Scotia for the holidays where he got to meet tons of people, new dogs and even got a brand new bed for Christmas.  It's almost hard to imagine that 6 months has passed since I took Stanley home.  It was an amazing experience to watch Stanley grow into the beautiful dog he is now and to see how happy he is in his new home.  Placing him in an adoptive home before Christmas also meant that one less dog had to spend Christmas in the shelter because I was able to take in a new foster now that Stanley officially has a forever home.
Gracie's story is sadly not that much different from Stanley's.  She's skinny, has bad skin and was found as a stray.  She has also clearly just finished nursing a litter of puppies though unfortunately we don't know what happened to them.  So the search begins for an amazing home for Gracie and I'm getting spoiled with amazing photos of Stanley enjoying his awesome new home.  All the money in the world couldn't buy the feeling of watching Stanley begin his new life. He deserved so much more then what he was given in his past life but he finally has everything he could ever need.  There's no way I can feel sad about that.
Tara Garland