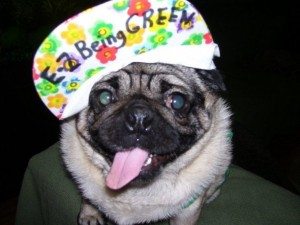 1.  I wish for quality nature walks on a regular and daily basis. Let's both get exercise and oh yeah..variety is the spice of life so please change the route once in awhile will ya?
2.  Please scoop my poop.  You can dump the waste down the toilet,  bury the waste in your yard at least 12 inches deep and then cover it with soil. Or you can create a special composter for your dog waste.  Get the shovel out and biodegradable bags to pick up after me on our walks!
3.  Decrease my carbon paw-print by investing in natural or organic pet products. Also, try and buy huge bulk quantities of quality dog food and other supplies at prices far under retail. Maybe ask some of my doggie friends' parents and see if they want to split it up into reasonable quantities and share in the cost savings.
4.  Reuse toys, leashes, collars and other pet accessories, and when I can't use them anymore donate them to a local rescue/shelter.
5. When cleaning up after me, use chemical-free cleaning supplies and bag-less vacuum cleaners. Bicarbonate  soda and vinegar are two  great natural cleaning alternative.  Read the ingredients!
6.  Please make sure that my food and water dishes are stainless steel or ceramic bowls instead of plastic. These materials last longer and don't have to be replaced as often, eliminating waste.
7.  OK I know I am fussy but I would like a bed made with organic cotton and my next collar and leash made from natural hemp/bamboo. They are sturdy but very chic at the same time!
8.  I think it is time for a new furry friend. Just like me, I expect you to "adopt" not "shop".  Just make sure he/she is not cuter than me!  I like the name Fiona!
9. Baking for me can be a lot of fun and very rewarding.  I am no that picky. Pumpkin, cheese, peanut butter, banana, anise, apple and carob are my favorites but liver, beef, chicken are also good!  Just think the peace of mind And you will be happy knowing you made it with healthy, all human-grade ingredients.  The same food that you eat! Oh ya..and lots of love as well!
10. I want to practice Doga! The Dogue Shop is the perfect place!  Hey..dogs need to RELAX and improve flexibility too!
11. Since it is winter-use a pet-safe deicer. Rock salt and salt-based ice-melting products are sore and hurtful on my paw and if ingested, can cause additional health problems.
12. Make sure to TAG me. A microchip will help find me. I know that if you lost me, your buddy cause, you would experience extreme emotional distress and I want to protect you from all of that anguish! Make sure I have tags as well with up to date numbers!
13. Many toys these days are dangerous and harmful me.  I could accidentally ingest one and many are known to contain elevated levels of deadly toxins.  Some tests have revealed high levels of arsenic, mercury, cadmium as well as lead, so it is a combo platter of lethal chemicals.  Please keep those ones away from me since I don;t know the difference!
14.  Choose eco-friendly pet grooming products made without phosphates, sulfates and other chemicals. Also, make sure to ask the Groomer what she uses.  Maybe you could buy the RIGHT green products for me and take them next time:)
15.  Don't turn up the heat…buy me a sweater to keep me toasty instead of turning up the thermostat.  I like being cool.  Instead of turning the air-conditioner on full blast in the hot summer months consider giving me the occasional ice-cube as a "cool" treat!
While you are busy making your New Year Resolution(s), how about making one on behalf of your dog instead of yourself? You just might be more likely to follow through since that special little someone else is counting on you to be a good guardian/pet parent!  And they are so worth it!
Guaranteed….If your dog (s) could read this article, they would have love it!