Smile!  February is National Pet Dental Health Month!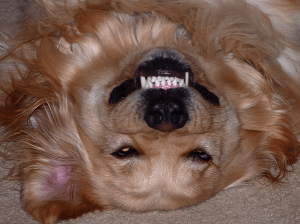 Here are a few dental hygiene tips:
Brush Daily:  GUILTY! How many of use really do this? While it may seem difficult to get your pet to cooperate, slowly try to incorporate a brushing routine into your pet's life. You can start by massaging around their teeth until you can get your finger or a pet toothbrush into their mouth.
Try Different Brushing Tools: A Pet Toothbrush is great for daily brushing.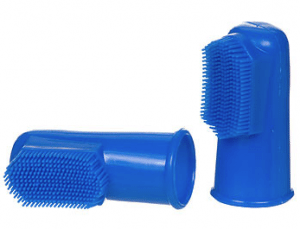 However, if you can't get your pet comfortable with a toothbrush in his mouth, the Finger Brush is a great alternative. If your pet won't even allow a finger brush in his mouth, Petz Life  has a nice line of Oral sprays and gels that work quite well! Check out the reviews here and get yours locally at Bailey Blu in NDG!   There are even dental wipes on the market!
Know the Symptoms: If you can spot symptoms of gum disease in your pet, you will be able to get them treated before symptoms worsen. Watch out for brown or yellow tartar build up, inflammation and persistent bad breath.  Your pet should see the vet at least once a year for dental check-ups!
Added Help
: Some people use special supplements in their pet's food. You can also look for healthy chew toys your pet can safely gnaw on – this can also help aid dental hygiene. A reminder to be vigilant about what bones you give your dog, as well.  
Here is why not all dogs should have them. 
  Vist a knowledgeable pet supply store like
Brandy's
in The Plateau area, and ask about their line of suitable treat chew bones for dogs.
For further brushing tips, check out this video below:
[youtube]http://www.youtube.com/watch?v=PsNlLLSBWLU[/youtube]