Hi Meira! I'm writing you today as I have a little problem. For the longest time, my adopted pooch would go nuts when left alone at home, barking and destroying my front door by scratching it (as I live in an apartment, this will be a problem when the landlord notices the damage ;). A canine behaviourist once told me that she didn't have separation anxiety but rather it was her dominance that took over – she didn't give me 'permission' to leave, and how dare I??!!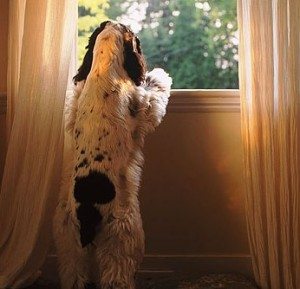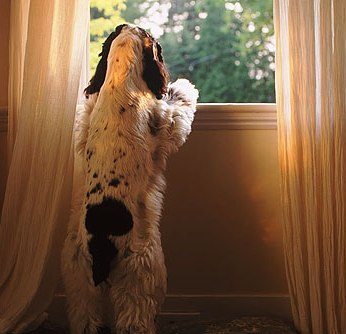 During the summer, I noticed that if I left the front balcony door open so that she could see me leave and come back, she was fine on her own. She eventually got used to me being gone during the day (to work) and settled into a comfortable silence, barking only once in awhile. I have, however, been unemployed since September and am always around now. Ergo, when I leave, she goes mental – even worse than before!! She is now hurling herself against the front door, making an awful racket, and will bark and bark until one of the neighbours comes out to tell her to be quiet. Then she'll settle down for an hour only to start all over again. How can I get her to realize that I'll always come back and there's no need to panic? I've had her for 2.5 years now… shouldn't she have figured that out by now?
While I'm lucky enough to have tolerant neighbours right now, I'm planning a move in the near future. This worries me to no end as I might not have the same luck, neighbour-wise. Any suggestions would be helpful!
Thank you!
Johanne
Hi Johanne,
Thanks for writing in with such a great question.  There are many dogs and many dog owners dealing with the issue of separation anxiety with their dogs. It is a very common problem, and one that needs to be handled with care.
Dogs are very social creatures, and they truly enjoy spending their time with us.  We also love the close, special bonds we have with our dogs, and also love spending time with them.  But sometimes, those bonds can be too dependent, and some dogs haven't learned how to be comfortable with being alone.  They become very stressed, and like humans, they cannot retain stress build up in their bodies for too long.  It needs to be released.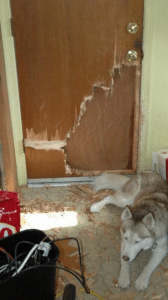 An important thing to remember is that a dog who is experiencing separation anxiety is truly stressed.  They are not angry at you for leaving them alone, and nor do they become loud and/or destructive as a way to enact vengeance. If the dog has no way to alleviate his high stress levels, then this will manifest itself in ways that we find inappropriate.
Dogs experiencing SA can become destructive.  They may chew doors, walls, couches, carpets, their beds, or even themselves.  Some may destroy by digging.  Some may eliminate in the house, even though they are perfectly house trained.  Some will drool uncontrollably.  Some dogs engage in excessive barking.
These types of behaviors often occur with the first 20-30 minutes after the owner has left the house.  Which translates to the dog being the most stressed when the owner leaves.
There is no real data as to why some dogs get separation anxiety, but it often  happens in dogs who have a change in their routine.  Dogs, just like children,  thrive on routine, and if there is a sudden change, they can become stressed.
It can also occur if an owner spends a lot of time with the dog, while maybe on vacation, or while unemployed, and then returns to work abruptly (in the dog's mind), thereby suddenly leaving the dog alone.  It can also occur in  dogs who become overly dependent on their human family as well.
Some dogs also get it after experiencing a traumatic event while left alone. They may have hurt themselves, gotten stuck in something, or reacted to a very loud stimuli.
The key to helping a dog with separation anxiety, is to determine the cause  and the severity of the anxiety.  Does the dog suffer from Clinical Separation Anxiety, or is it less severe?
In Clinical Separation Anxiety, there is often a loss of control of voluntary bodily functions.  These types of dogs will often urinate and defecate in the house, even though they are house trained.  Their stools are often loose and watery.  Some may drool excessively.  I knew of one dog who drooled so much when he was left alone in his crate (not where I think he should have been, seeing as he had Clinical SA), to the point where he kept slipping all over the place.  Dogs who have clinical SA experience so much stress, so much fear,  that I akin them to being as scared as someone who 'wets their pants'.
Dogs who have clinical SA often require the help of medication to ease their anxiety, much as a human who experiences anxiety would.  If you believe that your dog is suffering from Clinical Separation Anxiety, then I would highly recommend an appointment with a Veterinary Behaviorist, who can give the dog a proper diagnosis.  Some dogs require medication, which can be very helpful, but should also be used in conjunction with a behavior modification plan as well.  Dr Stiles, of Sherwood Park Animal Hospital is someone who I highly recommend.
While I think it marvelous that you consulted a professional, I am saddened by his/her assessment of your dog.  The idea that your dog is practicing dominance over you, and is upset because she didn't give you permission to leave, is a very old school assessment, at best.  What needs to be addressed is the stress that Charlotte is experiencing.  And she is probably experiencing it way before you actually leave the house.
Dogs pick up on our routines very quickly, and very well.  Most of our dogs know when it's a Wednesday, and we're going to work, versus a Saturday, where we stay home, around the house.  Routines and schedules are very important for our dogs.  But it can seem a little uncanny when our dogs know that we're planning on leaving the house, even before we do!
But they do.  Think about it from a dog's perspective.  Most of our dogs today are pretty much unemployed.  They don't have jobs or tasks to keep them occupied, so they spend a lot of their time watching us.  And learning.  Always learning from us, our behavior, and our routines.
While I cannot determine the level of anxiety that Charlotte is going through from a small simple paragraph, I would highly suggest consulting a professional.
I can give you some tips, but please keep in mind that these tips will not work for all dogs, nor for all levels of SA.  It is critical to determine the level of anxiety the dog is experiencing, and to see what the dog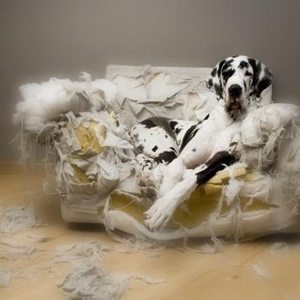 is actually doing while left alone.  To determine what she is actually doing when you leave the house, you can set up a simple webcam to catch what she's doing.  Is she scratching at the door as soon as you leave?  Is she whining and barking as soon as you close  the door?  Does she run from window to window to door to balcony to try to look for you?  Does she settle down at all?  Does she get destructive within the first  twenty minutes of your departure, or does it occur later on?  There are many questions that need to be addressed and answered before any assessment can be made.
From the info that you have given me, I am leaning more towards a milder form of  separation anxiety as opposed to Clinical SA.  Your dog not loosing control of her  bodily functions points me in this direction.
Things that will not work in regards to helping your dog is any form of punishment. First off, you should not punish anyone, or anything that is going through anxiety.   It will not help at all.  If you dog has severe SA, then crate training will not help either.  Well, it will help keep your house more intact, but it will not help with the anxiety that your dog is experiencing.  Getting another dog to keep your dog company will not help either.  If your dog has true SA, then she is anxious about you leaving her, not about being alone.  (If your dog is bored, then another dog can help alleviate boredom, but that is a whole other topic!)  Obedience training can help stimulate a bored dog, but since a dog with SA isn't being disobedient, obedience training will not help either.  Some people feel that leaving a radio on,  or a TV on while being away can also help sooth the dog.  I believe that it will not harm the dog at all, but if it is a case of true SA, then no radio will help.
What it can help with though, is the barking that you mentioned.  If your dog barks at different times of the day, then it is probably not SA motivated.  Determining  why your dog barks needs to be addressed first.  (I have another article on that subject that you can find in the archives, on my page.)  Keep in mind that dogs are often triggered to bark when there are sudden auditory changes in their environment.  It's nice and quiet for a few hours, but then your dog hears someone else leave their apartment.  That change in environment is what alerts your dog to bark.  So, in a case like this, a radio may help, acting as a noise barrier, or as white noise.  I do find that an auditory CD that has fluctuations to work better than a radio though.  These teach the dog to be able to better handle the auditory changes in their environment, which is what is actually triggering them.
Dogs with severe SA often have to learn to feel secure about being alone.  Teaching this takes time, patience and commitment.  These dogs are often 'glued' to you when you're at home, so it is important to teach the dog that he has his own place, where he can and will feel safe.  This may be a room, a doggy bed, a couch, or an opened crate.  You will need to start slow, in baby steps to help your dog feel comfortable. At first you'll have to teach the dog his 'place' cue.  Going to his place, and staying there for a certain amount of time.  Depending on how severe it is, you may need to  start with the dog being able to be in his own bed, as opposed to being glued to you on the couch.  (Being in the same room.)  Then you'll slowly work your way up to his going to his bed and staying there while you leave the room for a very short time, say  15 – 20 seconds.  Each time you leave, you will give the 'place' cue, and then leave. Don't say goodbye, don't make a big fuss.  Just leave.  The same goes for when you come back into the room.  Don't make a fuss.  Gradually, over time, your dog will learn that he is safe in his 'place' and that you will return.
Giving the dog something to do, something that will challenge him mentally, and that will keep him occupied while you leave is also important.
Some dogs do well with being left with a worn article of clothing of yours.  The smell of their human is sometimes enough to help alleviate stress in some dogs.  But beware. If the dog is highly stressed, or bored, he may resort to destroying that article of clothing!  Some other dogs do well with being left with a food puzzle, or a stuffed Kong to keep them occupied while you're gone.
Keeping a dog mentally stimulated is very important for their well being, and this is something that I always stress to dog owners.  There is no written rule that dogs need to receive their food in a bowl, on the floor.  Why not make them work for it, in a fun, challenging manner instead?  Dogs are natural scavengers, and once they learn how, most dogs love working for their food!  There are a variety of food puzzles on the market for you to choose from. If your pet supply store doesn't have what you're looking for, then  ask them if they can order one for you, or you can always order one online.
Make sure that the puzzle you buy suits your dog's breed, age and temperament.  Simple puzzles, that take no time to figure out may bore an active dog in no time.  You want it to challenge your dog, but you don't want  it to bore, or frustrate him.
While some dogs do not require a food puzzle, some do very well with getting their meal in a stuffed Kong.  If your dog has never tried one before, start off by making it easy  for her.  Fill it with something wet and soft, such as wet food, or peanut butter mixed with some of her kibble…but fill it loosely.  Once she gets the hang of it, you can  stuff it tighter, and once she gets that, you can amp it up even more by freezing it, so that it takes her that much longer to work at it.  We want her looking forward to her meal in her stuffed Kong, one, because she's hungry, and two, because it's so much fun!
I always advise clients who use Kongs to invest in a few of them, so that you can stuff a number of them and then toss them into the freezer.  That way you'll have them ready to go when your friend calls you to go out for brunch.  No more taking time to fill them up.
All of these food related activities are to keep the dog interested enough in the item, as well as occupied enough.  Leaving the dog a toy that he plays with all the time is not  enough to do the trick.  Leaving the dog his well worn chew toy, that isn't nearly as interesting/exciting as the stuffed Kong also is not enough to do the trick.  So, when you do give your dog a stuffed Kong, or a food puzzle, make sure you do so ONLY when you are leaving the house.  Do not use it in a way to treat your dog just for being cute, or just because you feel like it.  We need to make it even more coveted for your dog, so that she looks forward to it, enjoys it, and makes the association of your leaving coupled with  the yummy, fun puzzle or Kong.
If your dog is destroying only one thing, such as the front door, you can also manage the  dog's environment that she cannot get to it.  Setting up an X-pen in front of the door will keep it off limits.  If she is chewing out of boredom, then controlling the environment is a marvelous option.
If your dog has a mild form of SA, then teaching her to be in her crate can work well, too. But you need to be careful here.  I would not crate a dog who has Clinical SA, but only one who has a mild form of it.  Any association with the crate needs to be a positive one, so you will need to take the time to properly, and to positively crate train your dog.
Another great tip is to change up the routine for the dog.  Remember how I mentioned earlier that your dog knows when you're getting ready to leave for work?  You shower, have breakfast, put on your makeup, get dressed, get your keys, coat and shoes…all of this lets your dog know from the get go that you're about to leave her.  Some dogs start stressing out as soon as they notice that you're getting ready to leave.  Using some obedience cues at this time, to give the dog something to do, and to get the two of you interacting together can be helpful as well.  Doesn't need to be long at all, just a minute or two of some basic cues.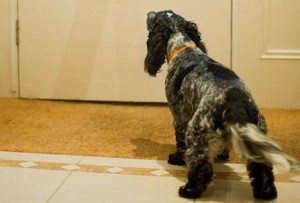 Then you can also practice 'false departures'.  Get ready as you normally would.  Get your coat, your shoes and your keys.  But don't leave.  Instead, stand by the door, or take a seat near it, and listen to your MP3.  Or read a book.  Or make a phone call, check your email. Just don't leave.  Once your dog loses interest in you, and walks away, then you can take off your coat and shoes again.  Practice this a number of times.  A lot of times.  But don't say anything to your dog.  No 'see, I didn't leave you, Pumpkin!'.  None of that.
Keep things simple when you leave and when you return.  Don't tell your dog that you're leaving. Don't make a big deal out of leaving, and don't make a big deal when you return.  No high pitched baby talking, no cuddly kisses, none of that.  Give yourself time to take off your coat and shoes, give your dog time to settle down emotionally, and then you can say hello.
You can also practice 'false departures' by leaving from a different door than you normally would. By a backdoor, a patio door, a balcony door, any other door.  You can also try leaving for only a short amount of time.  Anything to break up the routine that your dog has so cleverly learned to predict.  We need to make things unpredictable!
So, that's about it, in a nutshell!  I know my response was long, but there is a lot to cover when it comes to something as complex as separation anxiety.  If none of these tips work, I again stress the importance of consulting with a qualified professional.
Good luck and happy training!
Meira
meira@montrealdogblog.com