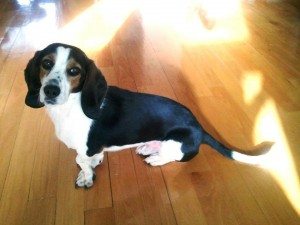 PLEASE SHARE!
The following is a courtesy listing on behalf of foster mom Nat Gabriela.

Reuben is our foster dog. He is a 5 year old (+/-) Beagle/Basset mix and he's still waiting for a forever home. He comes from a hoarding situation and a subsequent adoption fail. He is potty trained. Sits for his meals. Is a little  mischievous (in a very cute way) but non-destructive. He is quiet in the house and rarely barks/howls. He plays to his heart's content if engaged in play. He loves to run around in the yard and go for walks. He can be left alone for short periods in a crate with a comfy bed and toy. He would do best in a home with a yard and hopefully with another dog AND someone who is home most of the time or someone who can bring him to work. He is 100% dog/cat/kid friendly. We have a 4 yr old and he is very gentle with her. He is not food or toy aggressive. He's a lovable little dog who just wants a forever home.
If you are willing to give Reuben a forever home please contact the Montreal SPCA Emergency Shelter at 514-915-7311.
To see more pictures of Reuben Please click here