Nat here!  I adopted my chihuahua, Flea from the awesome rescue Sasha's Den Rescue about 8 years ago.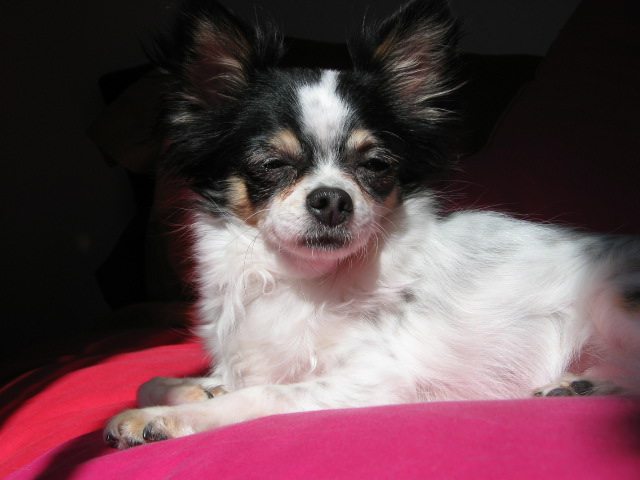 Flea came from a 'backyard breeder' – with some waaay overloaded physical and emotional baggage for such a wee thing – having lived the first year and half of her life caged as 'breeding stock', so someone could make a quick buck off her pups. Thank god for Sasha's Den, who rescued her.
Without Flea, I would never have bothered to really understand the issue of puppy mills.  I would never have started on the road to volunteering and trying to educate people about where their pets come from and encouraging rescue.  I would never have created this blog.  Which has connected so many other people to reach out and do their part too.  Whether by sharing a post,discussing something on our FB page or donating to a cause – you are helping.   So from the bottom of my heart – thank you. 🙂
I want to share this story with you from Sasha's Den Rescue – in the hopes that you'll be able to help and share it yourself.  This is a textbook example of the pet trade industry and why it needs to stop!  Montreal Dog Blog will get the ball rolling, by donating $50.00!
p.s. – I'd like to thank SDR for giving me the honour of naming this little guy!
 GUMBO, THE BOSTON TERRIER 
In October 2011, a little Boston Terrier found himself behind the glass window of a pet shop with his brothers and sisters. One after another, he saw them leave without ever being chosen himself. In January
2012, still behind that pet shop glass, he started limping. A visit to the veterinarian revealed that he was now unsellable: he has luxating patellas so severe that within a few months he will no longer be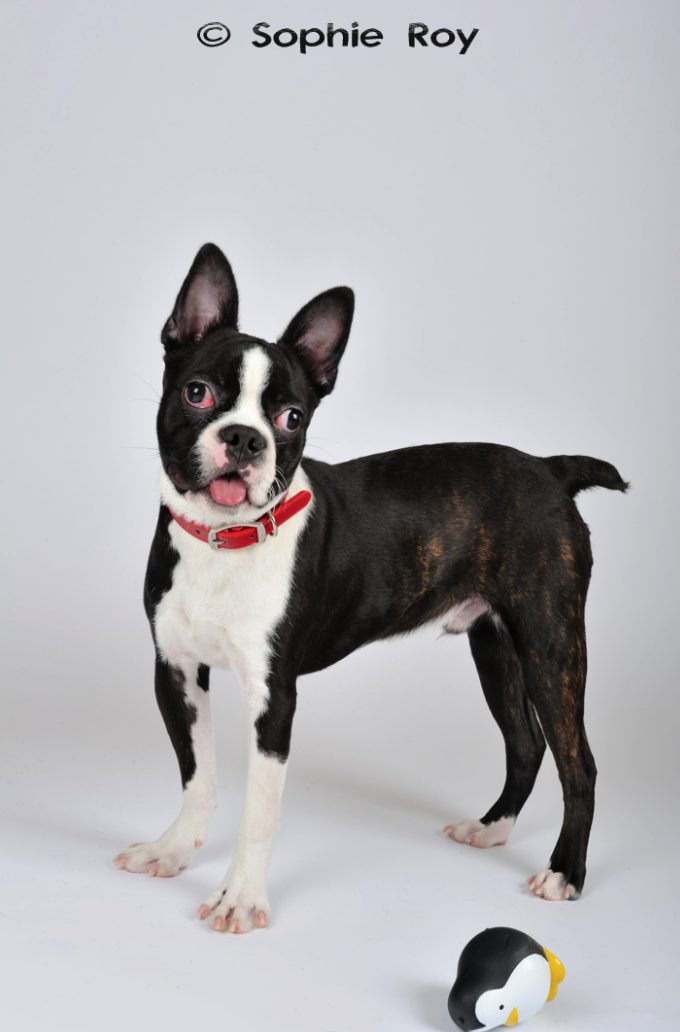 able to walk. In fact, his patellas are permanently luxated, making any movement at all painful for him. This puppy is not an ebullient Boston Terrier like most. He is a quiet little dog who can only move with some difficulty. The good news for him is that he was handed over to Le repaire de Sasha/Sasha's Den by an employee of the pet shop who wanted to save him from euthanasia.
(FYI: Luxating  Patella is a genetic inheritance.  A knowledgeable and compassionate breeder would never have let this condition continue down the genetic chain by breeding Gumbo's parents. A 'grade 4 LP' is the very worst case and potentially crippling scenario related to this problem).
The follow-up: On Wednesday February 1st, Gumbo♥ will be put under general anesthesia by Dr Alain Rainville from Clinique vétérinaire des Prairies to undergo an orthopedic surgery that will save his life and give him back his mobility. Le repaire de Sasha/Sasha's Den chose to provide this expensive surgery for him in memory of all puppy mill breeding dogs, including Gumbo♥'s parents, who will never know the warmth and comfort of a home and will never get the veterinary care they need, but who will continue to produce sick or malformed puppies who will too often end up euthanized.
The fundraiser: $3000 is necessary to cover the costs of Gumbo♥'s care. It is a small amount compared to the pain suffered every day by thousands of dogs suffering in Québec puppy mills.
Le repaire de Sasha/Sasha's Den is soliciting the help of all its faithful supporters who allow us to continue our mission year after year. For us, Gumbo♥ illustrates eloquently an issue that persists in Québec: the production of puppies for profit without any respect for the living, breathing beings that are used in the process and the puppies that come out, with their health issues and inadequate socialization.
Gumbo♥ wants to send a message to everyone who will read his story: DO NOT promote pet shops and the hidden puppy mill industry.  A pet cannot and should not be produced for profit nor bought without thinking about the consequences of one's actions.
To help Gumbo♥, please visit his page on our website and click on the Paypal donation button at the bottom.