FEB 3 UPDATE: CONGRATS TO Tanya Gadoury and Nancy Larose! Who each won a Dog-E-Glow collar/leash set! Sign up for our Newsletter (right side – under the ads) to win our next prize pack! 
Valentine's Day is on the way and we're showing your dog the love with this sweet giveaway!
Thank you to the makers of Dog-E-Glow for sending along these adorable heart-themed light-up collars (with matching 6 foot leashes!).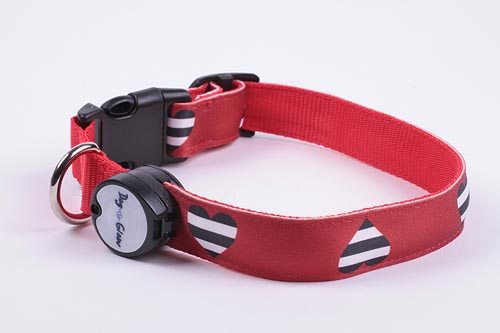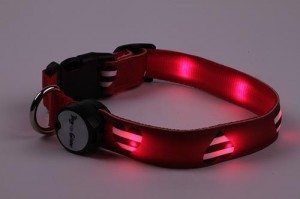 TO WIN:  Read the points below. Then head over to our Facebook page, find the Dog-E-Glow image and leave one comment about what you've learned about Dog-E-Glow below the pic!
We have one medium (10-15″) and one large (15-20″) to give away along with matching 6 foot leashes.  We'll contact a winner THIS WEEK (so make sure you are 'messageable' on Facebook!). 
By the way, if you'd like to purchase a Dog-E-Glow collar for your DFF (dog friend forever!), this product is available for shipping to Canada via this link.   Good luck and Happy Valentine's!
Dog-E-Glow launches new line of stylish, safe LED collars and leashes 
Dog-E-Glow is the first company in the pet industry to combine fashion and functionality with LED light designs
Dog-E-Glow collars & leashes illuminate their entire length and are seen up to 1,000 feet away for maximum visibility
There are currently 12 stylish designs in medium and large sizes. Harness sizes and leashes up to 6 feet in length coming soon in 2012
Style designs match every dogs personality from sporty, girlie to rough-and-tough
There are also 35 NCAA Division I collegiate logo designs available with the top 50+ NCAA Division I universities soon to be available
Collar and leash lights are visible when turned on in a steady or flashing mode
All products contain batteries that last up to 150 hours of use
ALL of the Dog-E-Glow products are:
Safe
Lightweight and highly durable
Weather resistant
 Made of high quality nylon sewn around (100,000 Hour) LED bulbs
Dog-e-Glow is great for:
Fashionable fun
 Pet safety at night and fast driving cars
Exercising & outdoor activities
Traveling
Dog-e-Glow was created by pet lovers who wanted to keep their pets and others safe while looking their very best
For additional information on Dog-E-Glow, visit http://www.dogeglow.com/ or call (954) 239-1833.
For more information:  Press Release – Dog-E-Glow Launches New Line of LED Collars and Leashes