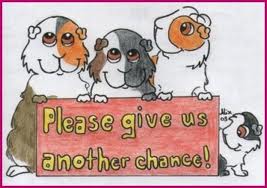 Guinea pigs have a rescue day too! ASPCA declared March 2002 the first Adopt a Rescued Guinea Pig Month to raise awareness about guinea pigs in the shelter system and to celebrate guinea pigs as pets. It is the 10th year on promoting this popular little furry friend that so many people take in to their home. According to the National Pet Owner Survey of 2009-2010, guinea pigs constitute a portion of the 15.9 million small pets living in American households. Unfortunately, just like there are puppy and kitten mills there are also guinea pig mills. Therefore, it is important for people to be educated on the importance of small animal rescue.
When people visit pet shops, they tend to see just a small animal in a cage full of wood shavings that are harmful to their respiratory system. Many people believe that they are meant to stay in a cage all day and just be fed. That is not the appropriate way of giving a guinea pig the right care. Sometimes pet shop workers are not well trained to give the proper information regarding the care of a guinea pig . That is why it is preferable to go to a rescue and get informed.
In the Montreal area, there are several rescues that take in "unwanted" guinea pigs. One rescue that I have personally met and seen the Guinea pigs in their care is at Jodie's Jiggley Piggley Farm. No, I have not had the opportunity to adopt a little furry guinea pig (yet) but I was there because they offer boarding for small animals. In 2008, they took care of my 3 rescue rabbits during the week of my wedding. I was able to see all of the rescued guinea pigs that they had during that time and they were all lovely. If you check their website, you can find information of what is needed if you are planning on giving a rescue guinea pig a home and how to properly care for them. The site of this rescue is full of information and facts about guinea pigs! There is also a section of where you can see pictures of guinea pigs waiting to be adopted.
Another place that has guinea pigs for adoption is the Montreal SPCA. I adopted my rabbits from them a few years back. They do have pictures available on petfinder.com of the guinea pigs available for adoption.
Petfinder.com is a great site where you can easily find what you are looking for when you are ready to adopt a rescue animal. You will find many rescues that have these little critters available and waiting for a lovely home. The following is information given by petfinder.com about why to adopt a guinea pig and not buy one from a store :

Adoptable guinea pigs are correctly sexed. A rescue group won't send you home with a mixed-sex pair thinking you are instead leaving with a same-sex pair.
Adoptable guinea pigs have had top-notch care. Expert handlers know the subtle symptoms of a long list of illnesses and won't send a pig out if they are sick.
No surprise pregnancies. A rescue group will not send a pregnant guinea pig home with an adopter. If an unspayed female pig comes into a rescue and volunteers know there's a good chance she'd been around an unneutered male, she'll be put on pregnancy watch as a precaution.
Rescue groups typically have guinea pigs of all ages. This means you're sure to find the right match, whether you have soft spot for seniors or would prefer to have full-grown guinea pigs for your kids.
Rescue groups have bonded pairs of guinea pigs. So if you want two, you can find two who already get along great.
Rescue groups often know the personalities and temperaments of the guinea pigs in their care. Whether you're looking for a roommate for your single pig, want a pig that's not going to freak out when your English Sheepdog barks, or want a pig that's the quintessential couch potato, a rescue can help you find the one who fits.
A good rescue is not going to let you get in over your head. The primary concern is the welfare of animals. If potential adopters need further information and education, or think guinea pig care is going to be too much for an already overloaded household, a rescue is going to have a diplomatic but firm heart-to-heart talk with you. Humans get over hurt feelings and bruised egos — but an animal may not survive a bad home.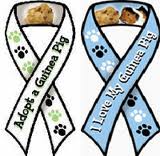 Please consider giving a rescue guinea pig a second chance to a happy family. Remember that adoption is the only option if we want to end the cruelty of animal mill production, overpopulation and needless killing. If you are a proud parent to a guinea pig, congratulations for stepping up and caring for your little one and share what you know with others. By informing and educating we can have a better society for humans and animals.