APPROX 1 IN 16 CHANCES TO WIN*
Odds are great!!! Don't miss out on the chance to win!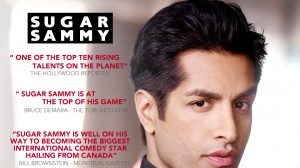 Montreal Dog Blog and PetitsPawz are raffling off one set of the amazing Sugar Sammy tickets!:
A) ONE SET OF SUGAR SAMMY TICKETS!
HOW TO ENTER THE DRAW:
Click:  Donate Now
Donation Amount: enter a minimum of $10 for one ticket (or $20 for 3, $50 for 10)
Fund/Designation: select the corresponding designation from the drop-down menu.
Message Box:  include your phone # and/or e-mail – the manner in which you want to be contacted if you win.
Dedications (optional):  you can 'gift' this as a charitable donation on someone else's behalf if you like – great gift idea!
You will get a tax receipt for your donation.
BY CHEQUE:
You can also enter by sending a cheque to:
PetitsPawz
1125 Moffat Ave.,
Verdun, Quebec
H4H 1Z1  (but make sure you send it with enough time to spare! We can't be responsible for cheques that arrive past the draw date!)
Tickets on sale until April 18th – 5pm
Tirage le 18 avril, 2012 /  Draw takes place April 18 – 6pm at PetitsPawz Adoption Day. Winners will be announced on facebook and will be called and emailed.
GAGNEZ DES BILLETS POUR
SUGAR SAMMY-EXCELLENTE COTE-TIRAGE EN LIGNE SEULEMENT!
 APPROXIMATIVEMENT 1 CHANCE SUR 16 DE GAGNER*
 Montreal Dog Blog et PetitsPawz font tirer une paire de billets pour le concert de Sugar Sammy!:
A) UNE PAIRE DE BILLETS  POUR SUGAR SAMMY!
• Date: Mercredi 25 avril 2012
• Où: L'Olympia de Montréal
COMMENT PARTICIPER
1. Allez sur ce lien http://www.canadahelps.org/CharityProfilePage.aspx?charityID=s100425
2. Cliquez: FAITES UN DON
 3. Montant du don: entrez
un minimum de 10$ pour une chance (ou 20$ pour 3 et 50$ pour 10)
4. Affectation des dons: sélectionnez le choix correspondant dans le menu déroulant.
5. Messages /instructions: inclure votre numéro de téléphone et/ou adresse courriel pour
nous permettre de vous rejoindre si vous êtes gagnant.
6. Dédicaces et options de dons: Ce don est un excellent idée cadeau! Vous pouvez faire un
don au nom de quelqu'un qui vous est cher si vous voulez.
7. Vous recevez un reçu pour vos impôt à chaque donation.
PAR CHÈQUE:
  Vous pouvez aussi nous poster votre chèque à l'adresse suivante:
PetitsPawz
1125 Moffat Ave.,
Verdun,
Quebec
H4H 1Z1
p.s. Faites sûr d'allouer
assez de temps pour que le chèque arrive avant la date buttoir.
Billets en vente jusqu'au
18 avrilsl, 17h00
 Tirage le 18 avril 2012,
17h00. Les gagnants seront annoncés sur Facebook puis contactés par téléphone
ou par courriel.