Having a pet in your life is a big commitment.  As any pet owner knows, there are times when emergencies do arise.  When they do, it's comforting to know that K911 Animal Ambulance is there!  This multi-functional local resource not only offers urgent transportation and emergency medical expertise…but compassion and understanding when it is needed most.
Founded by friends Rodney Mclean and Wayne Smith, K911 Animal Ambulance has grown to encompass many more services than transportation.  Montreal Dog Blog caught up with Wayne for this special Q&A!
What is K911?  When was it established?

K911 started out as an Emergency Animal transport for people requiring assistance with their pets to help them get to the vet. It was established on Aug 7th 2008 and since then we are now called the K911 Animal Ambulance. We are the only Animal Ambulance recognized by emergency veterinary facilities on and off the island of Montreal such as: DMV Lachine, DMV Blainville, DMV St Hubert, HVRS Brossard, CVL Laval, FMV St Hyacinthe.  As well as clinics like:  Pierrefonds Animal Hospital, Sherwood Park Vet , NDG Animal Hospital, Cot St Luc Animal Hosp etc…
What gave you the idea for K911?
Rodney Mclean's 7 year old yellow lab cross Timba, loved swimming in the St. Lawrence river. One day, when Timba ran to fetch his ball, he stopped, yelped and lifted his paw out of the water. Rodney went in to get him and he noticed Timba's leg bleeding down to his paw. Rodney immediately took off his T-shirt and wrapped it around Timba's leg. We both carried him a kilometer home.
Rodney called a taxi and the taxi refused him. He called the SPVM (police) and they said they could not help.  He called his father and his father left work and came down an hour later to pick us up. Where we transported Timba to his vet.  Timba had 12 stitches. That evening, Rodney told me he was so mad that there was no help available – that there should be a K911 emergency animal help.  I wrote the idea on a napkin and said, "Ok Rodney, we will open up a K911 Emergency Animal transport. I'm quitting my job tomorrow and will go and register the company".  And we did! Thus K911 was created.
How many employees are you?
We are presently 6 people, available 24/7.  We cover the island of Montreal, South and North Shore as well as West of West Island.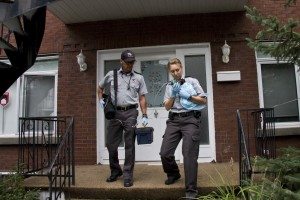 What is your training?
Rodney Mclean is an animal health technician. Myself, as well as our employees hold the requirements of: certification in Animal CPR, oxygen therapy and intubation.
How many ambulances are there?
We have 2 ambulances fully equipped and ready 24/7.
What other services do you provide?
We offer Intensive Care Transport between veterinarian clinics & hospitals to & from the emergency animal facilities 24/7.
We offer regular transport. This service is where we do transfers between vets for animals that need MRI, CT Scans etc…  and no medical attention is required but still need to maintain and secure the pet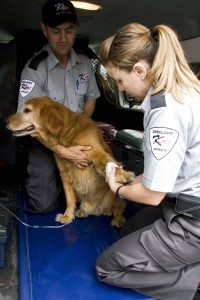 during transport. We also offer this service to pet owners who need assistance at home  due to: aggressive dogs & cats, animals that cannot walk due to neurological or ear infections, or they live on 2nd or 3rd floor and pets are difficult to manipulate, due to their size and weight.  We are fully equipped and experienced to handle these delicate situations without adding further injury to the animals. (Read some testimonials here!)
We offer Home Euthanasia & Home Pet Care. Home Pet Care works great for people who do not want to take their pet to the vet and they will call K911 to book a vet to go to their home and do a regular checkup. Home euthanasia is a service we offer 7 days a week between 9:00am -8:00pm. This is when the animal's health has deteriorated and the owner prefers to have this service done at home in their pet's environment among loved ones =, without having to disrupt an already delicate situation by bringing them to a veterinarian clinic or hospital.
We offer Individual cremations & group cremations. When your pet passes away day or night K911 is available for you to remove their remains. This service is also offered at the local vets but with the exception that K911 will remove the remains and have the pets ashes returned to the pet owner on the 5th business day. Vets will call us to dispatch us to go to their client's home and transport their deceased pets to them, or to the FMV for a necropsy. We are not in & out in 15 minutes. We become like therapist to these pet owners, allowing them the time needed to express their grief and emotions and just having someone present to listen to their story can make all the difference for them. We feel honored and privileged that they chose K911 for the pet's final journey and that they shared their story with us as well.
We do raccoon removal –  whether they enter your home or become a nuisance in your back yard – we help owners in catching and or trapping their aggressive pets,
We also provide a K911 Animal Patrol in working with the sectors and the SPCA in helping catching, trapping and removing live & deceased animals on streets & highways 24/7.
What kind of animals do you transport? How many calls do you get per day?
We transport dogs, cats, birds, snakes, rabbits, raccoons, etc.  We are now receiving on average per day being 24 hours, about 30-35 calls.
Do you have pets yourself?
Yes. Presently I am fostering a 9 week old Doberman puppy named Cane that we just rescued (read more about Cane further on).
Is there a particularly touching case that stands out for you? 
We had one client who was a retired doctor. We were called by a vet to go help him bring his German Shepherd to the clinic be euthanized. Apparently, the dog was 15 yrs old and was not doing well at this time. When we got there, a worker from the CLSC was helping out this senior citizen – who had problems just trying to walk. The man told us that his wife passed away a couple of months ago and that the dog was the only thing he had in his life that reminded him of his wife.  His kids were not around as they were living in the U.S.
The dog was lying in his own feces and barely hanging on. We explained to him how we would manouever his dog onto the stretcher and transport them both to his vet. On the way there he said that he would do what he could to save the dog. He didn't think he could continue living if his dog died. Once we were at the vet, the vet said they would take it from there.
Rodney and I looked at each other and knew this was the end for his dog and we could not bring ourselves to tell him. Our hearts went out to this guy. We told the vet we would wait for him and take him back home afterwards. We waited about an hour and a half. The vet came out to see us and said that they woud bring the man home. At this point, Rodney told the vet what the man had told us – how he felt he had nothing left.  Rodney suggested that the vet call a CLSL worker to be there for him when he got home, as the return to an empty house would be difficult. The vet thanked us.
We tried calling the man on several occasions and there was no answer.  But we found out that  a family member came and moved in with the gentleman.  Many sleepless nights I was awake – thinking about this guy and how he was doing.
What areas of Montreal do you serve? Do you have plans to extend beyond Montreal?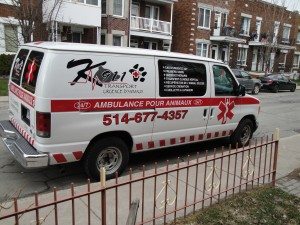 We are now partners with all the Emergency vet hospitals on and off the island of Montreal and recognize K911 as a professional, reliable and compassionate ambulance service. You can call any of these hospitals for a reference anytime.
We serve the island of Montreal, including South & North shore and West of West Island 24/7.  I personally would like to see K911's Animal Ambulance located in Blainville  & St Hubert 24/7 –  with 3 shifts of 6 techs.
Will you be at any upcoming Pet Fairs or events?
Yes we will be at the Beaconsfield Pet Fair on June 2nd (Beaurepaire Village).  As well as the 6th Annual Beaconsfield Pet Fair & Animal Adoption Day (Saturday September 22nd, 2012 11-3 at Centennial Hall Park in Beaconsfield).  We'll also be at the SPCA Monteregie Dog Walk on Sept. 9th. And at the SNAC (Salon National des Animaux de Compagnie) in Nov 2012.
How can people get in touch with you?
There are so many ways people can get in touch with us:
K911's 24-7 Phone line: 514-677-4357
email: info@k911transport.com 
When you call the DMV, there is an option number 2. When you press it, your call is immediately transferred  through K911's Animal Ambulance Service 24/7.
HVRS & CVL will contact us and give us the client's info or they will tell their clients to contact us directly.  FMV will always refer K911.
You can visit our website also www.k911transport.com.
We here at K911 firmly believe that giving pet parents all the choices that are available today, will help them in making a wiser decision when it comes to their pets.
Your website has a particular emphasis on adopting pets – how do you feel about the puppy mill situation/inadequate cruelty enforcement in Quebec?
When it comes to puppy mills, we firmly believe (even before K911 was created) that they should be shut down. I think the people and government need to take another approach by not allowing pet shops to sell pets –  this will certainly cut down as well.  We work with the SPCA and have a great partnership with them. We tell everyone (including our clients whose pets pass away) to adopt or foster a pet from any one of these types of rescue organizations.
Cane, my Doberman puppy is a rescue. We were contacted by Montreal Police, where Cane's mom was tied to a post with a foot-long clothesline cord around her neck. In the ice, lay 5 dead, frozen puppies . Cane will still alive and breathing but needed medical attention. We removed the pups from the ice. Sadly, we were told we could not take the mother as the owner was away and would be back in about 4 days.  After an hour of talking, the police finally allowed us to take Cane.  So I am disgusted by this form of breeding and puppy mills and I would like to see them abolished within the next 5 years or at least stop the sales of animals in pet shops.