The following is a courtesy listing. Please share!
BENJI HAS AN UPDATE! READ IT HERE!
Do you recognize this dog? On Friday, he was taken to a grooming facility in Montreal. His condition was deplorable, his underbelly was completely matted and he had easily not been groomed for a year.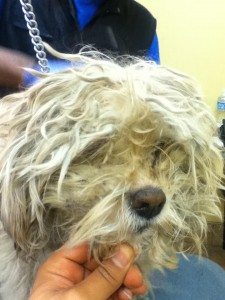 His owner never returned.
He is small-medium in size – and appears to be a  spaniel/poodle mix.
The kind person who took him in has SERIOUS allergies in her home and simply cannot keep him. Thus, a foster or permanent home is desperately needed.  He comes with donated cage & bed, food, toys, leash & collar.
There is no room at any rescue at the moment.
If you can help (even temporarily) or need more info: please contact the Nutri Depot where he was left at 514 332-0220.  And spread the word!