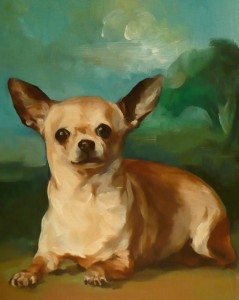 UPDATE: Congrats to our winner  Leslie-Ann Joseph! Thank you everyone who entered this contest!
Here's your chance to have a lasting and meaningful piece of art based on your best friend!  Whether it's for yourself or a gift idea for someone else, a personal pet painting is sure to occupy a prime spot in any pet lover's home!
I received a BFA from the Nova Scotia College of Art and Design in 2006. I moved to Montreal later that year to pursue a career in painting. To date, I have had two solo shows in Montreal, and have participated in group exhibitions in Montreal, Toronto, Halifax, and most recently Vancouver. As a current pet owner, and someone who has grown up with animals – turtles, mice, hamsters, dogs, ducks and canaries – I take great pleasure in animals and respect the unique relationship one has with their pet. Creating a business in Pet Portraits seemed a perfect balance of both loves.
TO WIN:
 Simply head to our
contest page and enter
! (only one will count per person).  Good luck! Contest closes Sunday April 29th at 11:59pm.