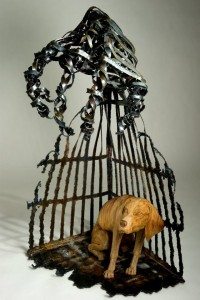 – by blogger, Liliana Danel 
A year has passed since we found out what goes on at the Berger Blanc. So many of us were angered to see the images on the undercover report done by "Enquete." At the first protest organized by SPA Canada a year ago, it was visible that the people of the province of Quebec were angered and saddened to realize that the animal control service that the city provides is a house of horrors for companion animals.
Tony Fortin, a wood sculptor artist, from Mont-Tremblant, has followed the case of the Berger Blanc cruelty. He wanted to use his mastered talent in wood sculpting to show Mayor Tremblay's administration and the city of Montreal that a year has passed and no definitive solution has been given. He created a wood and iron sculpture. According to his site the "amalgamation of wood and metal depicts the helplessness of the ''voiceless'' of this world, who face the cold political decisions motivated by fading economical interests." Tony Fortin decided to give as a gift his talent and epic piece that is valued at $5,000, under one condition. His website states that he wish is for the sculpture to remain permanently exhibited at the very spot it was originally placed, until an organization of public animal management is established on the island of Montréal.
I was able to be there and take part in the unexpected delivery of the sculpture that he named "Gerald Iron Hands." According to Gabriel Villeneuve,  campaign coordinator for SPA Canada , in collaboration with Tony Fortin, they planned the delivery to the Municipal Court of Montreal for 3 months. It was packed in a box that resembled a gift with a bow. It was a delivered package and they even had a delivery receipt. It was all a surprise. The press was given a press release and Concordia University Television (CUTV), Metro news, and Global news were there to see the unveiling of the masterpiece. I was lucky enough to be "behind the scenes" and capture the whole event taking place. After the unveiling and the press conference, Tony Fortin gave Montreal Dog Blog his time to answer questions. I created a video of the event. Take a moment to see what took place that day and what it means to all of us that advocate to have Berger Blanc close down.
It is sad that to inform that the Mayor has given no comment about this gift. It is shameful that the city has placed his artwork in a basement and taken it out of display. The city of Montreal needs to see this sculpture and the city needs to be proud of the magnificent gift that Tony Fortin has made to our society. It is extremely hurtful to think that a peaceful act of protest is censored by the city. It angers me to know that this gift has been put away, while Berger Blanc opens once again in Laval. Instead of Quebec putting them out of business…they allow them to continue working and expanding. Therefore, the SPA Canada has organized a protest that will take place on May 19, 2012, calling out for the city to display Tony Fortin's sculpture in City Hall and to close down the pound Berger Blanc.
I respectfully ask all those that read this to come out on May 19th and give your voice once again for the animals that are still suffering and dying at the Berger Blanc. The passing of time shall not make us forget what happened and that we still demand a concrete answer and a solution for animal control in Montreal. Do not forget that the more of us are present…the more impact on those that don't care and that have continued governing us with "Iron Hands."