Breast Cancer-The disease touches the lives of many. One in nine Canadian women will get breast cancer in their lifetime, and one in 27 will die from it. These women are our mothers, our daughters, our sisters. Most of us know someone whose life has been affected by the disease. I know I do!
Most of you would have to agree that dogs can help us get through even the most difficult of times, including difficult conversations. One dog that has been taking this role very seriously is a Great Pyrenees called Noah. Over the last three years, he has helped people talk about this very serious topic.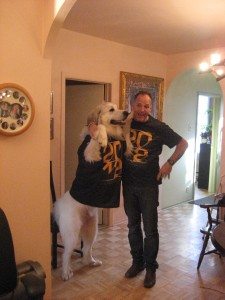 Standing faithfully by the side of Mr. André Larocque, Noah has helped to raise thousands of dollars for the Ride to Conquer Cancer benefitting the Segal Cancer Centre at the Montreal Jewish General Hospital. André has found that, in doing his tasks with André, the community tends to be immediately at ease asking about the realities of cancer, and sharing their own stories.
 Of course, Noah then also has to provide a number of therapeutic cuddles!
Noah and André do all of their fundraising together for the Montreal event, with Noah lending his gentle-giant self to all of those who need the extra support in talking about and contributing to the cause. That being said, Noah has very clear that he will only wear the Ride jersey once per year (for their fundraising photo), and instead proudly wears a Ride bandana around his neck year
round.
André Larocque participated in his first Ride to Conquer Cancer 4 years ago. Initially inspired, in memory of his sister, André has continued to participate every year to help raise the necessary funds for the Segal Cancer Centre.
This blog is a dedication to a very special TEAM for their work supporting a very important cause!
André and Noah have been doing a fantastic job over the years in raising both support and funds for this great cause. If you too would like to contribute to their efforts to conquer cancer, please visit the website www.conquercancer.ca or call 514-393-9255.