Did you know that your backyard birds, mammals, reptiles and amphibians have a special center in Montreal that exists just for them?  From field mice to falcons and bunnies to bears – Urban Animal Advocates is a rehab center focussed on caring for injured and orphaned wild creatures.   For instance – pictured is Blackberry.  A baby fox that was found in Les Cedres.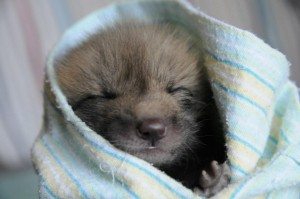 He was just 2 days old when UAA picked him up from the Valleyfield SPCA this spring.  He is growing fast, adored by his caregivers and will be carefully released back into the wild when it's time. (Want to see what Blackberry looks like now? Click here!) Check out more animals they've helped at this link. 
Like most animal rescues, UAA are an organization that relies on donations to survive.
Mother's Day is around the corner – why not show your support to UAA – who 'mother' so many animals in need?  Attend their Mother's Day Benefit on Thursday May 10th (comedy and silent auction). Click the poster below to enlarge the details.  And scroll further to find out more about this excellent organization.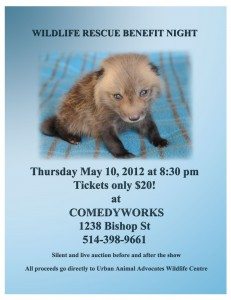 What is UAA (Urban Animal Advocates) ?
UAA is a Wildlife Rescue and Rehabilitation Centre located in Montreal
Where do the animals come from ?
All our patients come to us from the public, provincial and federal conservation officers, animal control agencies, the police, regional parks, veterinarians and municipal public safety departments. 
What is done when an animal is in distress, but there are safety hazards ?
UAA organizes teams of trained volunteers to rescue animals in difficult or dangerous situations.
How many animals does UAA receive each year ?
Hundreds of wild animals, birds, reptiles and amphibians are admitted to UAA's wildlife centre each year. Some only require time to rest and recover.  Others need complex orthopaedic surgery or intensive medical care. Many of our patients are orphan mammals, requiring constant care in our network of professionally supervised foster homes.
What happens when they are injured?
All of our patients, from the tiny hummingbird with a concussion to the raccoon with a fractured leg, receive highly skilled professional care.  Veterinary services are provided by associated private clinics and consultants.
What do you do with the animals once they are well?
UAA's primary goal is to return our patients to the wild. Our release programme is environmentally responsible, carefully planned and timed to maximize the animal's chance for survival while avoiding any disturbances or risk to resident wildlife populations. Mature mammals are returned to their home territories.   All rabies vector species are vaccinated before release.
What does UAA do for the community?
As a community service organization, UAA handles hundreds of calls about wildlife every year. People consult us about basic wildlife biology, suitable grains for bird feeders, wildlife diseases and the skunk under the garden shed ! We advise the public on animal-proofing techniques to prevent damage to property by wildlife and to resolve conflict situations humanely and permanently. 
Does UAA have public education programmes?
UAA is involved in a number of education programmes.  Students in animal health, applied ecology and veterinary medicine receive training in wildlife care at our Centre.  We provide a lecture service for schools and community groups.  We help organize public meetings on wildlife issues and offer a training course in emergency handling of wildlife for animal control personnel.
Is UAA a known organization?
In 2000, we hosted the International Wildlife Rehabilitation Council (IWRC) Millennium conference in Montreal, bringing together over 400 specialists in wildlife from around the world to share information skills.
Visit Urban Animal Advocates at their website: http://www.urbananimaladvocates.ca/