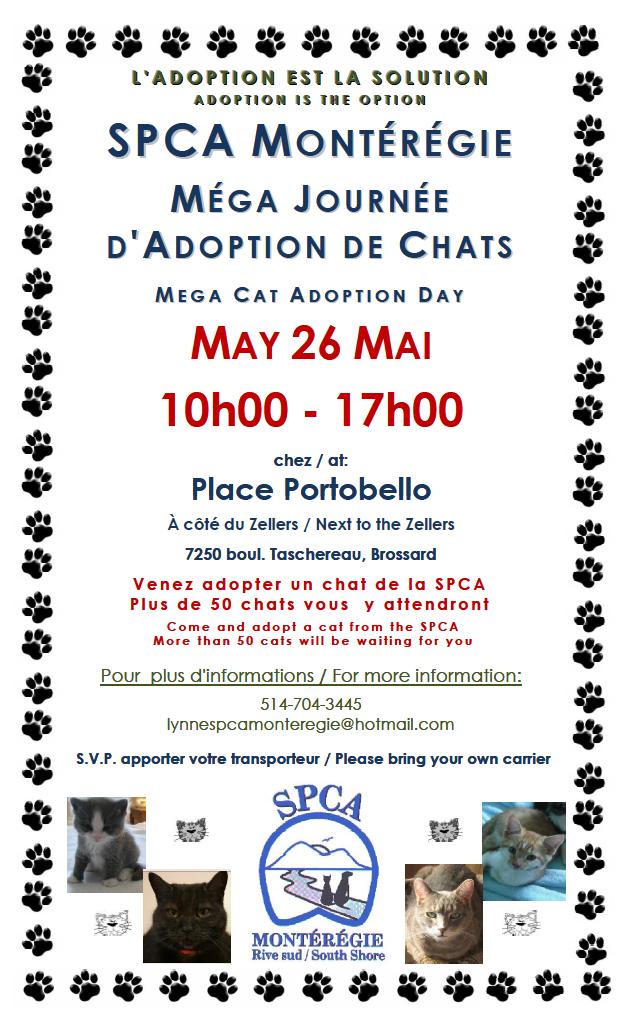 For the third consecutive year, volunteers for the SPCA Montérégie are organizing a mega cat adoption day that goes beyond our regular adoption days. The last time we had such an event, Liliana posted my commentary on the day, so you can read the post to get an idea of how previous mega cat adoption days have gone.
This time, we hope to bring around fifty cats – a mixture of cats from foster homes and some from the shelter directly. As I have a hand in choosing the shelter cats that will be attending, I assure you that all of the cats will have one thing in common: they're amazing! Felines of all ages, colours, and personality types will be there. To give a taste of what to expect, here are some cats we plan to bring: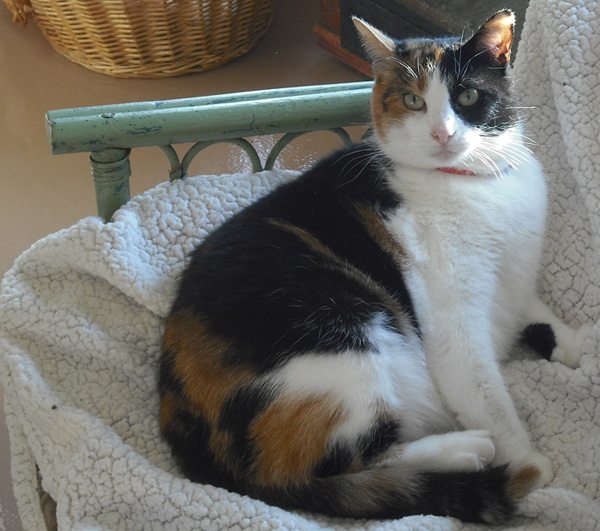 May 26th will be Tequila's second mega adoption day. Despite her photogenic good looks and bold, friendly personality, Tequila has been at the shelter for over three years!! Will this lovable calico finally find a home?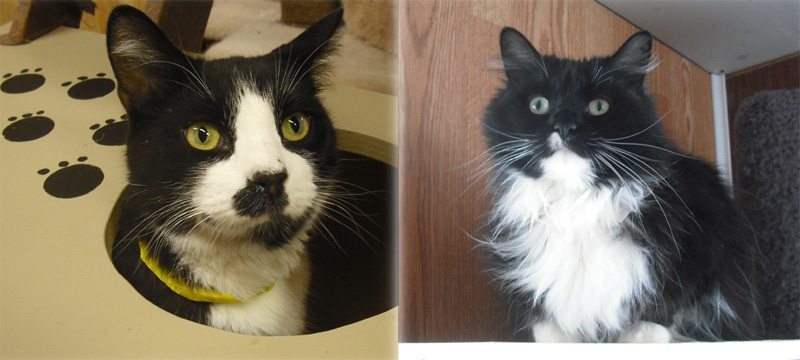 I was surprised to learn that Noireau and Lady are from the same home – they never hang out together! Guess they're the type of siblings who pretend not to know each other in public. 4 and 5 years old respectively, these two were brought to the shelter late last year because their owners were moving.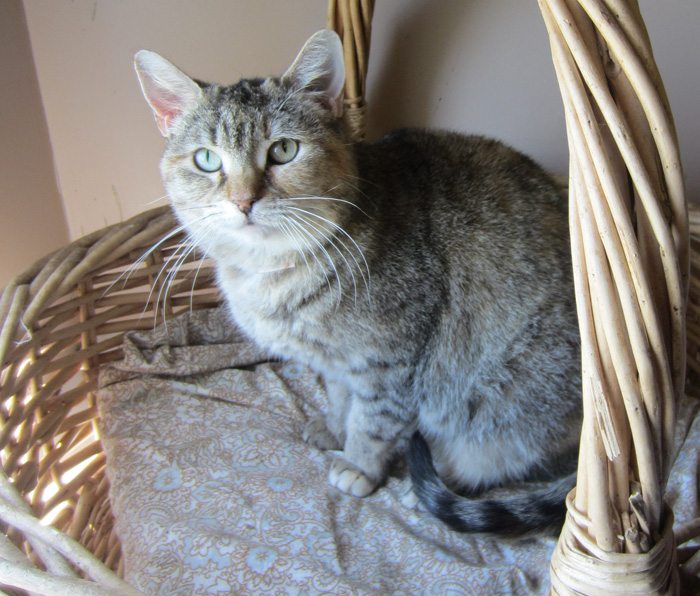 Sweet little Agatha is one of those rare housecats who has succeeded in adjusting to the shelter environment (eventually) and has come out of her shell as of late. She's quiet, though, so she tends to be overlooked; let's hope being put on display at the adoption day helps her!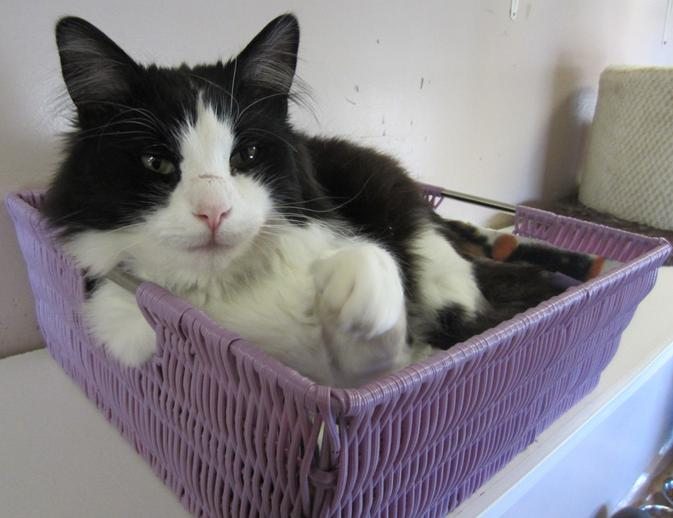 I met Noé on the day that he arrived at the shelter, and I have to say that he hasn't changed much since then. His fur is still lovely and soft, his character is still calm, and his nose is still scarred from his days as a stray.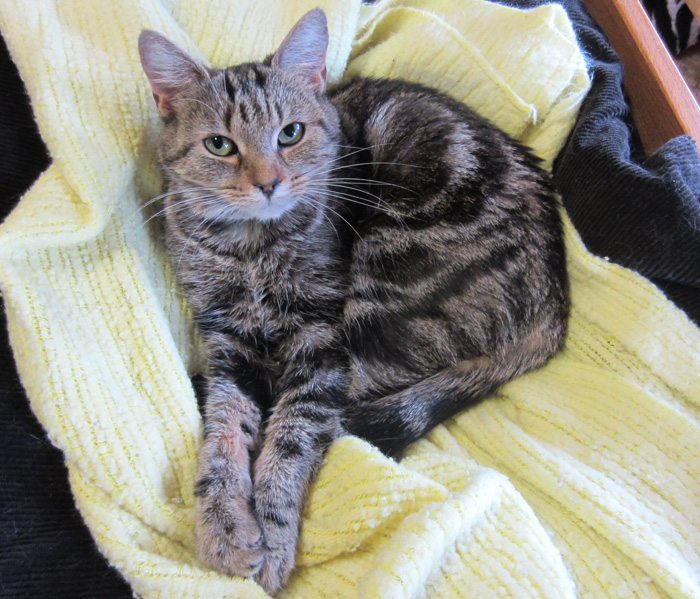 Toutite is one of four cats who were brought to the shelter after their owner was hospitalized. The other three had the fortune of being taken in by foster homes, but little Toutite has been fending for herself in the cattery. If she doesn't find a forever home on the 26th, maybe a space will open up in a foster home and Toutite can fill it.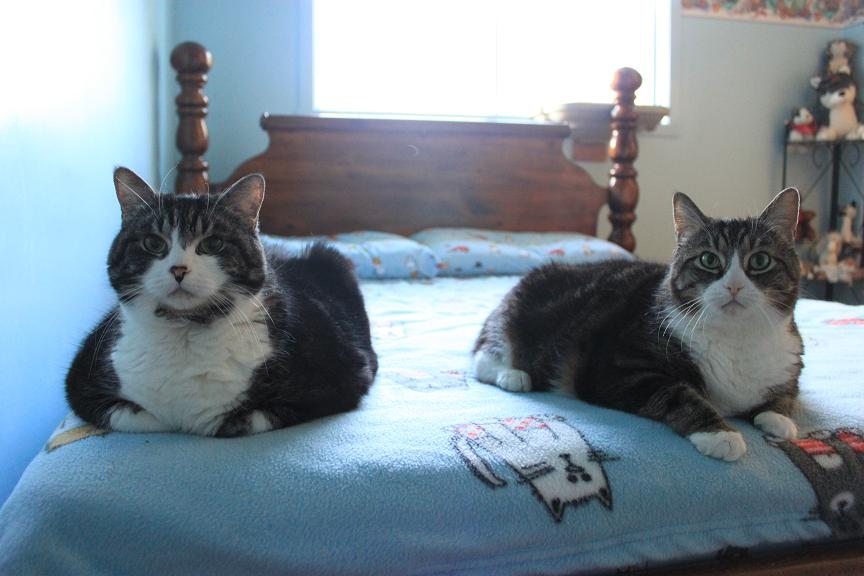 And of course, a little bit of promotion of my own foster cats is necessary: Truffles and Bailey will likely be present. Despite the similarities — appearance, both female, both front paws declawed — there's no relation between the two…as far as we know. Bailey is a ditched-in-an-apartment cat, and Truffles' owner gave her up due to bronchitis.
*****