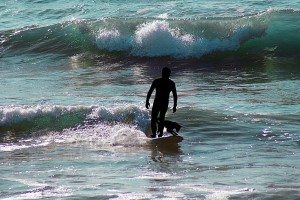 What is the Perfect pet portrait?  This is a question with no right answer.   Just like the surfer searches the globe for the perfect wave a great photographer searches for the perfect portrait, one that is better than the last.   There is no truly "perfect" pet portrait because each animal is different, and each person looking at the portrait is different.  Their appreciation can be affected by taste, mood, a preference towards a certain animal, or breed, favourite colour, and the list goes on.  There are an infinite number of ways that a portrait can be perfect for one person and not another.
One thing that everyone can agree on though is that a powerful portrait tells a story.  The perfect pet portrait is no different.  Even if all you see are the eyes of a dog, what are they saying?  A great portrait should be able to answer this.
Stories can be inspired through nature, art and sometimes even the mundane things that surround you.  A story is often subtly captured in a portrait.  Take a look at the image on the right, for example.  Shiraz is photographed on a rich, deep, red background.  Named "Shiraz" after the dark, red wine it is only fitting that she be photographed on a red background.  Her black and white colouring stands out against the red.  Of course knowing the subject makes a portrait more personal and likely to be perfect in the viewers opinion.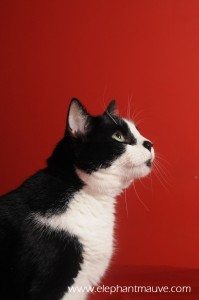 Shiraz's housemate, Lola is a bit nervous and her favourite place is in the bathroom.  This is also where she feels safe and comfortable.  So naturally the best place to photograph her story is in the bathroom.  Note that being further away gives you more view of the bathroom and a sense of space between the photographer and the cat.  When trying to show the story in your own photos remember that accidents rarely happen with a well thought out portrait and when they do that are not necessarily accidents.  For example, Lola's people were a bit un-impressed that she would run away to the bathroom whenever the camera came out, but in the end this made for a perfect image.  Her personality shines through in the final image.
For inspiring stories, amazing photographs, and a little technical know-how, journey around the globe with me to search for the perfect pet portrait.
Also the more interactive we make this blog, the better.  Send any of your thoughts, and ideas to info@elephantmauve.com.  Your fellow Montreal Dog blog readers want to hear about you and your pets too.  If you have captured a story in an image, tell us about it and you may be featured in a Perfect Pet Portrait Blog later this summer.