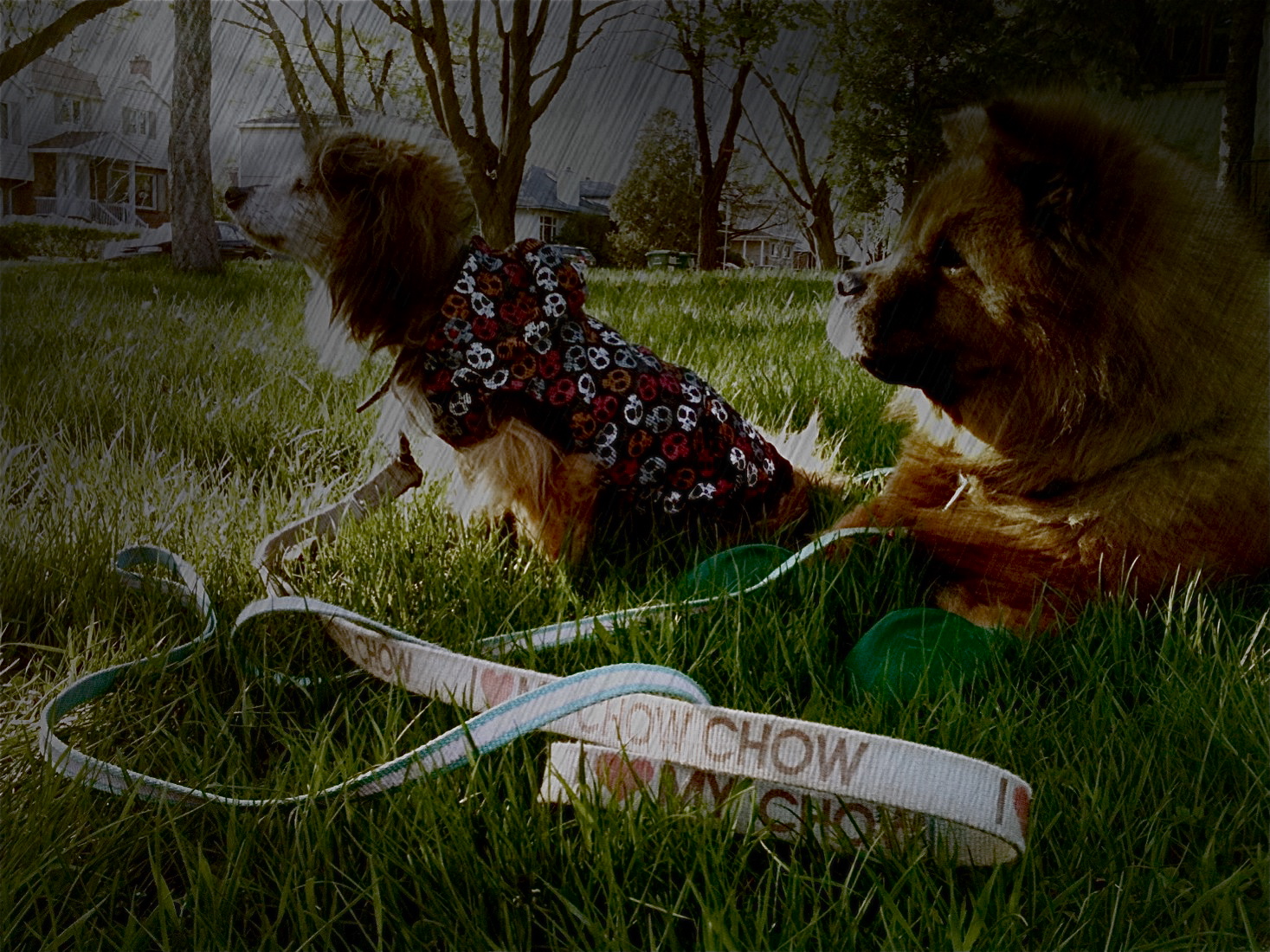 Muddy Springtime Paws? Springtime Chills? No thank you!
Montreal is turning green again and with the white stuff finally gone, any and every Montrealer – those furry and those not so furry – are out enjoying the warmer weather. But cozy sunshine and green grass aren't the only things around lately… RAIN, and lots of it.
It's not that I dislike rain, I just like it better when I'm inside and my chow chow, Gustav, and senior pomeranian/sheltie mix, PeeWee, feel the same way. The outcast in my pack is my doberman/shepherd mix, Padfoot, who absolutely adores the rain and everything spring, summer, and fall related. Now, within my three lovelies both Gustav and PeeWee are the most sensitive to weather conditions. Gustav's major ordeal with the rain is it's wetness. He doesn't like his feet getting wet, ergo, boot shopping became a must for him. PeeWee on the other hand, suffer's from a thinning coat in his old age (he's fifteen and Gustav is eight) making doggy jacket, sweater and tee shopping a must for him.
Before Protex Pawz there were no boots for Gusy. We tried everything. He couldn't wear most other styles as they put restriction on the ankle (I find) and due to his stout legs they were not an option. The great thing about Protex Pawz is their likeness to balloons. Found in a basic array of colors, they're easy to slip on and off (I will admit though, the initial process of putting them on can be tedious but after a few rounds it becomes easier). What really sold me on these boots is the fact that they totally form to the foot of the dog. Personally, I think this is awesome because this makes 'getting used to' and 'enjoyment of wearing' the boots THAT much more quick and positive. Gustav got used to these boots within, I kid you not, five minutes AND he had a happy tail wag too! Protex Pawz make rainy dog walks fun again by making sure Gustav's focus is on the walk and not avoiding the puddles.
* Remember to beware of thirsty dogs who want to lap up street water. As the sun warms the roads, dogs will again get thirsty on walks, so carry a water bottle to prevent sipping roadside puddles.
Springtime weather is lovely, yes, but it can also be tricky. The temperatures shift dramatically from cool to warm to hot to cold. If your dog wears a coat in winter you may want them to wear a lighter sweater or doggy tee while walking in the chilly sun. Coat-donning dogs are accustomed to having their body temperatures managed, and they get chilly easily. In order to keep PeeWee from getting chills or sunburns he's developed a very "smart" collection of hoodies and tees for the cooler/warmer season. There are a number of wonderful brands for dog clothing. I adore the Canis line only because it's amazing in every respect. Durable, fashionable and comfortable, Canis has PeeWee flirting with elderly women on our walks without getting cold!
Looking at Protex Pawz I considered five major points: comfort, durability, fun level, price, and style. For under twenty-five dollars, you get three sets of disposable boots that can stand snow melt, lawn chemicals, liquids, soil, sand. Protex Pawz turned out to be the most natural-feeling boot Gustav has ever worn because the material is so thin that he feels the ground, providing a sense of security. Overall I think this product deserves a 5/5 paws.
To make sure both you and your walking companion enjoy the most out of Montreal's short spring season, please don't forget to think about protection from the less harsh of the elements for the four legged one(s) in your life.
Happy walking!