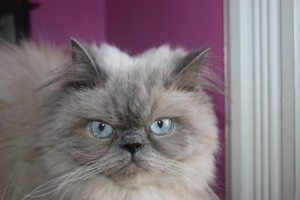 Charlot's Story- Part 1
August 2012 Update:  We never had time to do a Part 2 because Charlot has already found a forever home.  He will be heading over the border to Vermont!
Charlot is a gorgeous blue eyed Himalayan that adores giving head-bumps.  One day his owners decided to bring him to the vet to have him euthanized.  The reason? Charlot was a little bit too "jumpy", and had been urinating on the kitchen table.  For them, this was more than enough reason to put the cat down.  The professionals at the vet's office, however, did not share the same opinion.  Agreeing to take ownership of Charlot, they then contacted PetitsPawz for help.  The first thing that needed to be done was a complete physical examination.  Upon inspection, it was evident that Charlot was having pain while urinating, and that was probably the reason that he had been doing his business on the kitchen table.  Cat's always seem to find a way to let people know when they aren't feeling well.  Our next step was to do an ex ray as well as an ultrasound and a urine sample, in order to make sure that Charlot didn't have an crystals obstructing his urination.  Luckily, this wasn't the case.  Instead, Charlot was diagnosed with a urinary tract infection.  With and injection of antibiotics, and a new type of food especially for cats with bladder issues, Charlot was ready to leave the vet's office and enter foster care.
In the meantime, Susan, the founder of PetitsPawz, reached out through facebook to find a foster.  I had no intention of fostering a new cat at the time as I already have what I would consider to be a full house, but when I saw his little squishy face in the photo that was posted, my heart melted. I didn't hesitate two seconds before jumping for the opportunity. The timing couldn't have been more perfect, as Charlot was just waiting for someone to go pick him up.  Something came over me when I saw Charlot, and felt in my gut that I was meant to foster this little ball of fur.
I knew that there would be a few challenges ahead, but I was fully equipped and ready.   Charlot is two years old and has never lived with another cat, and is declawed on all four paws.  He is also extremely thin, and has been through a great deal of stress.  Waiting at home for him were three eager foster cats (Romeo, Ryder and Dusty) and the resident Chihuahua, Moe.  My first plan was to make him comfortable by separating him from the troops.  I always go through this exact process when I get a new foster.  Every new cat gets his/her own room, equipped with plenty of hiding spots.  Sometimes, this process only takes a day, while other times a few weeks of separation are required.  It all depends on how the new cat reacts to his/her new environment.  This was also the perfect opportunity to introduce Charlot to a group of docile male cats, and a Chihuahua that absolutely adores welcoming home new feline friends.
I had an immediate connection with Charlot.  Well socialized with people, I received my first 'puffy head butt' through the cage on the way home from the vet.  Upon arrival, the first thing that struck me was how skinny he was.  Petting him, one is able to feel all of his little bones.  Once I settled him in his room he demanded a full petting session, and then went to discover a hiding spot.  I could tell he was overwhelmed, and needed his space.  I was just happy to have him home.
 This is where Charlot's story really begins.  Stay tuned for Part 2!
If you would like to contribute to Charlot's ongoing medical care by making a donation, PetitsPawz has set up a link just for that:
Click here to go to our CANADON page.
Click 'donate now'
Choose 'Fund for Charlot'
You can also visit PetitsPawz on facebook for regular updates on Charlot!