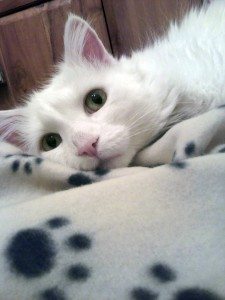 JUNE 2012 UPDATE: Minou has a new home in Ottawa! 🙂 Here is an updated photo from the PetitsPawz FB page: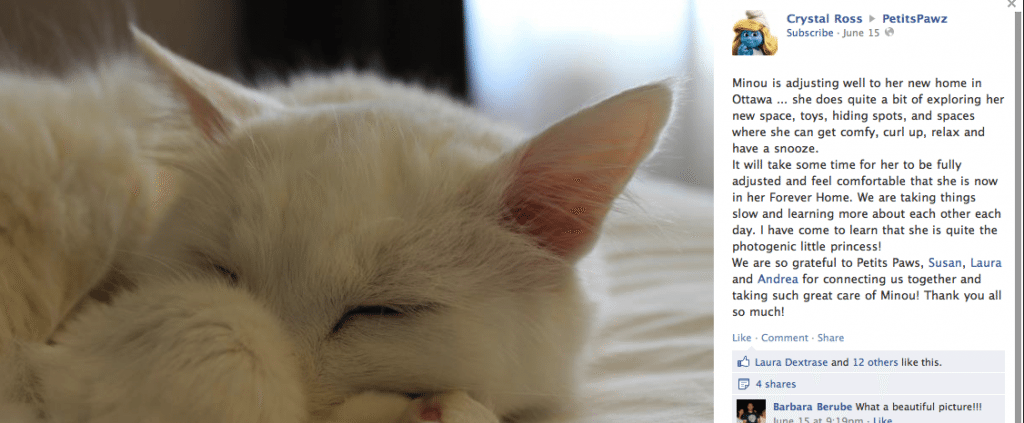 Minou was surrendered to PetitsPawz after her owner passed away and a caring neighbor reached out to us for help.  Luckily we were able to find her a foster home very fast, and she has been there ever since. This little sweatheart is over twelve years old and had never lived with another cat before entering foster care.  As a result, she has to be separated from the two resident cats (one of them is quite a bully) because she is not comfortable with them. Right now, Minou has her own space and has been doing very well, however this situation can only be temporary.  Her foster mom Andrea has family coming to stay with her the end of this month (by June 20th), and it won't be possible to continue separating the cats once they arrive.  We need to find a new foster home for Minou as soon as possible!!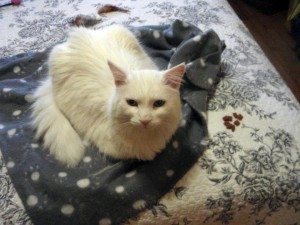 Minou is stunning, calm and affectionate.  She is so light on her feet that you won't ever hear her coming and going.  One of her favourite things to do is to park herself in front of someone on the bed to be brushed, and is a complete sap when it's time for her grooming session. Even though she is 12 years old, she is still has quite a bit of spunk in her.  All this little girl needs is a scrunched up tin foil ball and she will keep herself (and you!) entertained.  Minou has proven to be a little bit of a picky eater and will only eat specific types of food, but we like to think that at her age she just knows what she likes and what she doesn't like.  She is simply an amazing cat, and anyone would be lucky to have her to keep them company.  Minou will thrive as the only cat in the household.
CHECK OUT THIS VIDEO OF MINOU PLAYING!
Minou needs to be in a home with no other animals, and preferably no young children. She is up-to-date with routine shots, de-wormed, feline aids & leukemia tested negative and sterilized.
If you would like to foster Minou, send an email to info@petitspawz.net or visit our facebook page and write us a message!