Hi all!  This is a courtesy listing from a friend of mine in Toronto – who has been trying desperately to rehome her cat for a very, very long time.  So, I know how difficult this has been for her.  If you have any contacts in the Toronto area, please pass this along.  And even if you are Montreal-based – please consider Parker if he suits your lifestyle.  He is an awesome cat! – N@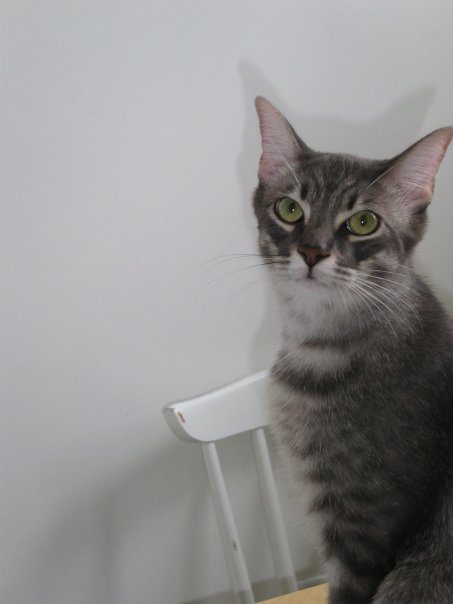 I NEED A NEW HOME!
My name is Parker. I am a Grey and white DSH male tabby and I am 7 years young. I am extremely social, personable, and love-seeking, with strangers and friends alike. My owner loves me more than anything (she says I'm the best cat she's ever had) but needs to find me a new home because I am unpredictable around babies, and there are two babies in the house.
I am excellent with the litterbox and although I do have my claws, I don't scratch the furniture, or people. I have grown up with my sister cat, but I would do best in a home with no other cats, dogs or babies. Older children who understand how to treat me are fine.
I am neutered, up to date on my shots and I am micro-chipped. It would be safest if I was an indoor cat but I do love to go outside, so it will depend on how much time you have to monitor where I am. I can live happily solely indoors as well so if you live near busy streets, best to keep me in.
My owner would like to arrange an "Open Adoption" where she can receive emails about how I am doing, and photos. She really loves me and doesn't want to give me away. In fact, if it doesn't work out she would like you to contact her in case she can help or take me back. Please do not take me to a shelter (or worse) without speaking to her first – even some 'no kill' shelters cannot promise to take me in.
If you think you might be the right home for me, please contact my owner, Kelly, at 416-473-4958, or kellygoodlad@yahoo.ca. She can talk to you in more detail and send you more pictures of how cute I am! She will be very sad to see me go but she knows it is the best thing for me and for her children.