I like the idea of balance in my life!  I know the importance of vacations! I understand puppy parent separation anxiety! And I completely feel the need to have my fur-babies always in the hands of people we totally trust. We have never used a kennel. We just can't! For the majority of time, we have had a pet/house-sitter who has come to our house.  It is in fact, the  only way, we can leave them now..it's the only way we can enjoy a vacation or time away.
But it is not easy to find someone we can depend on, relate to, entrust, and know that our dogs are safe, well-taken care of, loved, and treated with care.  We once had a wonderful house-sitter..miss her a lot…she loved the pups..you could just tell!  She had experience with animals, loved her own, and was involved with rescue. And when we came back, from short or long term get-aways, we could always tell the dogs had had fun..true signs…the dogs were relaxed, content, and exhausted from lots of play and walks!  And over and over again, the dogs rushed and loaded her up with lots of sloppy and wet kisses every time she walked in the door. She had a way of keeping in touch when we were away and gave us a sense of peace..after-all, these are our kids! Going away was never an issue..and I appreciated the fact, that we could actually go away worry-free! But life happened, our pet-sitter moved and had a baby, and we ended up in limbo; a very stressful time.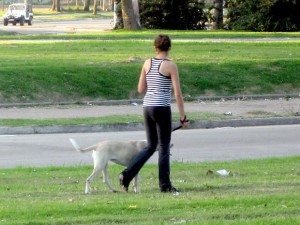 This was one time I  really wished family was around permanently.   I am from New Brunswick and my hubby is from Winnipeg.  There are no family members around..but I do remember at one point we paid to have my Mom come up to doggie-sit because we were stuck..really stuck! Our love for animals comes naturally..we knew that family members from either side would do the trick and care for the grand fur-babies well..even though they all made it perfectly clear they would not bake any doggie cookies !
It is clear that pet-sitting has turned into a business.  I see house/pet sitters/walkers pop up everywhere.  In fact, it seems to be thriving.  But, it's also overwhelming.  Because once it becomes a business, can it still be about the pets?  I remember calling one advertised pet sitter, and the conversation revolved around the cost, and how a visit here could be squeezed in when she was in the area.  "Don't think that they can wait until 10-10:30 for a good old morning pee", I told her.  And squeeze them in?  I don't think so.  It seemed so impersonal.  I know they are our dogs and not hers…but they are not plants.  I know it is recommended to talk to our plants but I am sure that the plants will survive and thrive even if they miss out on a few conversations.  Even if they get the basics, like a good watering for example, they will be good. Our pets won't be…afterall, they are members of the family and used to being nurtured and holistically cared for.
When we only had two to care for, it was a bit easier.  We had recommendations and found 2 pet-sitters who would gladly look after them in the comfort of their homes.  One problem we had was that one pet-sitter would only take big dogs, and the other, small ones.  We had one of both.  Logistically, it was a nightmare and financially, it didn't make sense.  For the most part, we were pleased with the service but eventually had to ensure that our dogs stayed in the comfort of their own homes.  Bailey, my old guy, just simply did not enjoy it anymore…did not want the excitement around him for an old grumpy guy.  Maya, our rescued Boston, had a hard time being in someone else's care.  In addition, when we got home, it was clear that the pet-sitter was not capable of dealing with Maya's issues and found it hard to accept that she had a few accidents in the house, even though I explained Maya's background and history..it wasn't pretty and Maya was on the nervous side..still is!  At that point, we opted to keep our dogs in the comfort of their own homes.
At one point, we decided to use the power of the Web. There are sites up now where you can pay a fee to have access to a number of pet/house/baby/senior sitters who can offer their services.  We visited one to check it out. Many of the people seem to offer multiple services..and everything is "mommy-approved". You can see a profile (Age, Experience, Services offered, Language,  Living arrangements, Workplace, Job frequency, Job type, Availability, Smoking, Driver's licence, Salary, Last visit). There sre some with criminal checks and some that offers references…only offered to those who are paid members.     There are descriptions available.  But what I notice, is that many descriptions follow a common template and the majority offer ALL Services available.   This did not sit well with us.  We both want to know more "personal" information with regards to a particular service the person offers and feel the connection  with that service.  In most cases, it seems that we could hire someone to look after our kids ( if we had some), my Grandmother ( if she was here), and the dogs all at the same time all for $10.00 an hour.  So, it is nice that the power of the internet is able to match needs and services but it has never been a sound option for us.
We set up interviews at one point and also had a contract written up.  We needed to find someone who accepted a day wage because we do not have one pet, we have a few and one is disabled.  Unfortunately, unlike Leona Hemsley, we  don't have the funds available to pay for each individual dog and for each individual visit.  In fact, not sure I know too many people who could.  So, another challenge, we faced,  is that if hiring a pet/house-sitter, who is in business, how do we find one who is flexible, realistic, and with heart..meaning doing what they do because of their love for animals?  They are out there, I know, but research, meetings and discussion "must" be part of the process. There are some that are really recognized, but at the same time very busy.  And there are those that are hard to find but probably are the ones that would meet OUR needs most.  Our past experience, centered around having someone who wasn't in business, but who gladly liked the opportunity to doggie-sit and earn a bit of extra-money when we needed her.  We were lucky with our ad and interviews but the process was long and it was like finding a doggie treat in a big mound of cayenne pepper.
I am not saying to find a pet sitter is difficult..in fact, it is easier than ever..but..finding the RIGHT one is not easy.  In fact, it is painful.  Right now, we are lucky and blessed at the fact that we have a near-by neighbor and we have a barter system set up.  We exchange services..it helps we are friends and know that we can trust our pets will betaken care of.  I know that this will only be temporary but we appreciate the system and the security.  However, I always think about the future and this time next year.  I also feel lucky that I have a lot of people in my network who may be able to recommend somebody…Dog blogging come with benefits right?
There are a few things you can do to help you find affordable, reliable and trusted pet sitting services:
Offer a trusted person to stay at the house and look after your pets
Share care-giver experience
Set up a Pet-sharing Co-op/meet-up to find others who may be in the same situation and SWAP.
Swap pet-sitting for baby-sitting (providing you know the care-giver likes both-it's not a given!)
Ask friends/family if possible but those who are natural animal lovers!
Interview and find a proper service to fit your specific needs
Look for recommendations..ask around!
Always check references
Are those in business bonded and insured?
Set up a contract with conditions
Think about your pets needs more than your own and then decide on the conditions that would work
Make sure the pet-sitter keeps in touch ..SKYPE is a great way to just make a connection
Find out the person's exposure and experience with animals
Set up a pre-arranged interview with the pets around to see the interaction
Talk with groomers, vets, pet product centres etc.  They may know someone.  There are sometimes ads up on message boards.
Just because someone calls himself/herself a pet sitter doesn't mean he or she is qualified to do the job.  There is "no one pet-sitter fits all".  Hiring the right pet-sitter can be a difficult decision and requires research and work. We must ultmately always check for professionalism and purpose.
………..Afterall, I am sure most of you are like us…and when you do get back from that much needed vacation- your beloved furbabies are waiting and wagging!
(note: you can also check out our list of boarding/sitters at this link! Always do your research before selecting a sitter!)