MDB was contacted by Cheryl Walker, concerning her Great Dane, Nelson. Cheryl, her husband and their 4 children are soon moving to the Republic of Congo, where Cheryl will work as a volunteer in her humanitarian project to help orphans.  Naturally, they want Nelson to go with them.  After all, he's family. In looking into how to get Nelson to Africa, however, Cheryl ran into a roadblock:
I want to bring my Great Dane, Nelson.  We have had him since he was a puppy, and he is now 3 1/2.  Because he is so big, the airlines say we can't bring him unless we send him cargo.  Instead of costing $200 to bring him the normal way, he would fly cargo and it would cost around $7000!
We love our Nelson. We have had him since he could fit in our lap when he was 6 weeks old.  Now he is 3 1/2 and we are facing having to leave him behind because he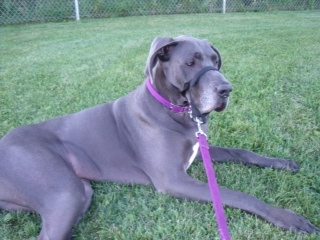 is too big to fit in the airplane. The other option is to send him in a special cargo plane and that costs $6000 for Air France and at least $1000 for other expenses like the huge cage and the like.  We just can't afford that.
We were looking into finding a home for him but it is so painful to think of leaving him behind.  My son Jayden cries at the mention of it and all the kids are sad at the thought of it.  His tears are what touched the hearts of the owners of Global (Pet Foods) in Pierrefonds and they said they want to do a fundraiser for him to join us in the Congo once the $7000+ is raised and he can be sent to us.
We are moving to the Congo because we started a charity to help orphans and widows in the Congo and we want to live there so I can be on the ground, as a volunteer in my project, which is more effective than managing it from here in Canada.  My husband, Lambert, got a job there and will support our family. Or website explains what we are doing with lots of stories and photos:
 www.mwana.ca
How Can You Help? 
Amid all the Moving Day horror stories of people abandoning their pets – here is a family that desperately wants to keep theirs, even moving to another country!  So, what can we do to help?
Share this story!
The Walkers are leaving within weeks. Nelson may need a foster home in the interim.  If anyone is interested in fostering him, please contact Cheryl at: cheryllambert3@gmail.com  (Nelson gets along with other dogs and all people. Unsure on cats. Very kind-hearted and gentle dog) 
Stay tuned to this blog for updates on the possible fundraiser via Global Pierrefonds.
 Good luck Walker family…and your big boy Nelson!!