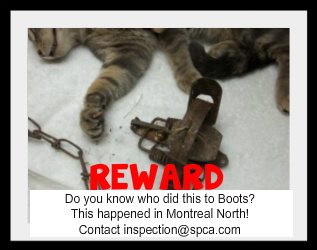 The following is the press release given out by Montreal SPCA. Please share the following posting in order to find the person that placed the trap and caught a cat by the paw. There is a $2,400 reward for any information that leads to the arrest of the heartless individual.
Last week, a grey male 1 year old cat named Boots, was rushed to the SPCA in Montreal facility after he sustained serious injuries when his paw was caught in a steel jaw leg hold trap. According to the SPCA veterinary team, Boots may have had his paw stuck in this trap for over 48 hours before being discovered and he suffered significant physical and psychological trauma. The SPCA, in conjunction with the Association for the Protection of Fur Bearing Animals[APFBA] are offering a $2,400 reward to anyone providing information leading to the apprehension and conviction of the person who set the leg hold trapped that resulted in the injuries to Boots.
Boots had his paw stuck in a steel jaw leg hold trap which is typically used to trap animals for their fur. It is suspected, however, that the trap was set intentionally for the purpose of catching and injuring a domestic cat. "The pain and suffering endured by Boots is unimaginable and we want to find the person responsible for this and we want to encourage anyone who may have seen or heard anything related to this case to come forward in order to assist our investigation" said Alanna Devine, Director of Animal Advocacy at the SPCA. This is not the first time that the Montreal SPCA is investigating the trapping of a domestic pet in one of these leg hold traps. In 2010, following an investigation by the SPCA after a cat was brutally killed in a leg hold trap; a man was successfully prosecuted for setting the trap that caused the pain, suffering and death of the cat.
"Leg-hold and other body-gripping traps are cruel and indiscriminate. Any animal or person that touches the trigger of a trap can set it off," said Lesley Fox, Executive Director APFBA, "these devices are extremely dangerous, especially when set within city limits."
The SPCA and APFBA are asking anyone with any information about this case to contact the SPCA's inspection department at inspection@spca.com and are reminding the public that there is a $2400 reward to anyone providing information leading to the apprehension and conviction of the person responsible for the injuries that Boots suffered.