(Want us to review your product? Contact: reviews@montrealdogblog.com) 
Hey there Montreal Dog Blog readers! And how have you all been enjoying this summer in Montreal? Hope everyone's been feeling fabulous, having fun, and enjoying the sun! I'd like to introduced you all to a collection that translates that perfectly into four legs.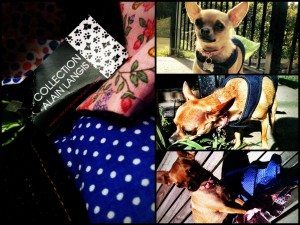 Product: About a month ago I was sent a few dresses from the adorable Alain Langis Collection from Créations Entre Chats Et Chiens.  Now, I have boy dogs so I clearly needed to find a foxy lady to model these mode pieces. Luckily, I work with an inspiring and beautiful young woman who owned just that! Gucci, a brindle Chihuahua who is nearing two, looked lovely the whole time.
Price: about $30
Pros: The whole Alain Langis Collection was ridiculously cute and fashionable. What was adored most?
Quality: Stitching, textures, and detail. Every piece that I was sent was finished with obvious care. I fell in love with the SOFT velcro made for easy wear and comfort.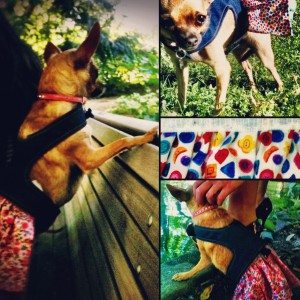 Versatility: So, I've declared my love for the soft velcro and here's why: One, comfort for the dog. Two, mixing. How do you make a cute outfit more cute? Every girl knows the rule of adding something 'off'. The mixing and matching possible within this collection is fantastic. I was sent three skirts, a jean vest, and a sundress. We managed to double the looks that were sent. I was amazed with how many styles we came up with and so pleased with how simple changing was. Each piece is easy to put on and take off, making it fun for not only us but most importantly – Gucci!
Style: Skirts and vests are neatly finished, making for clean lines that give the clothing structure but remain un-restricting. The patterns are delicious and trendy. Bright colors and great detail make each piece unique on it's own.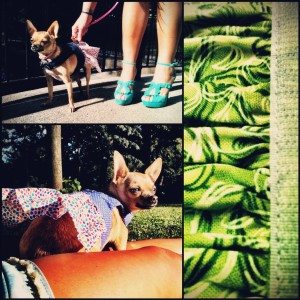 Cons: Harness attachment. Buyer beware, these vary in position. Be aware when buying.
Overall: Our little photo shoot of the Alain Langis Collection through Westmount Park on a late afternoon was an absolute blast. Taking away all the above rad reasons of why you should love this collection, is the public reaction. Not only did Gucci rock the clothing in comfort but not one person could pass without adoring her. The hip kids, buttoned-up business men, mothers with double decker baby carriages and jogging elders. Alain Langis has something for every lady to get noticed.
Where to Buy:  Online:  English Website (diapersfordogs.com)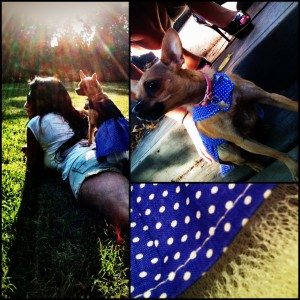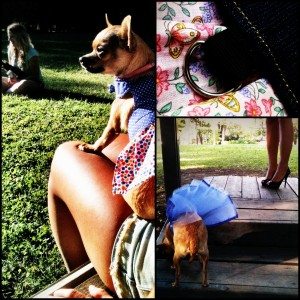 (MDB would like to add a personal note that the provider of this product is a long-time breeder of Savannah cats. Though it was never withheld, this information was only discovered after our promised review.  Since we endeavor to always be transparent with our readers – we wanted to make this known.  We support rescue FIRST because pet abandonment and overpopulation is a huge problem.  However, there are definitely many caring breeders out there and the reality is, this is an option for people as well. What we would ask, as with any pet – rescued or purchased – is that you do your research beforehand..  This particular breeder adores the Savannah breed and has only one litter of kittens per year, which are sterilized prior to going to their new homes. They would be very happy to answer any questions you might have via their contact form. Thanks! – ed. MDB)