(Got a product for us to review? Contact: reviews@montrealdogblog.com)
How amazing has August been so far? Amirite? Between the hot, hot heat, awesome  sonic fun at Osheaga and Heavy MTL, fantastic fundraising garage sales with PetitsPawz,  and educating the public to recognize the danger of Montreal's newest animal by-law being passed on August 20th, this month has been impressive but passing in a blink.
Soon the lovely green leaves on Mont Royal will be turning brilliant colors of rose and fire, followed by eager dog owners ready to enjoy summit hikes! No matter where you stroll or your destination, Montreal is beautiful in the fall and I don't know any dog that would disagree with the fun that is raking leaves and jumping in the pile! YAY! But the fun comes at a cost, no longer are freak rain showers and gusty winds refreshing but chilling.
Product: Working under Anna at Pampered Pets continues to be huge learning experience, in dog behavior as well as human! One of the most striking similarities are reactions and symptoms to the weather. Just like us, our pets can get chills, seasonal colds and what not. And just like us, sometimes our pets need protection from the elements in order to prevent these. A product in our boutique that I ABSOLUTELY ADORE, and suits any walking style, are the RC Pets soft-shells.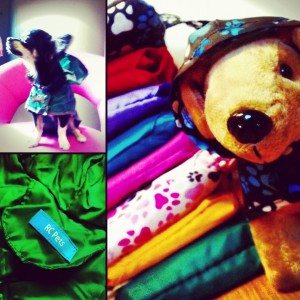 Price: About $20 – $25
Pros: Okay, so there are few things in life I love more than autumn hiking. And one thing I shall never forget for all my mountain adventures would be a pack-away soft shell. Soft shells are great because they provide protection from the elements without any added  layering. These soft shells by RC Pets makes cooler weather nothing to shudder about!
– Compact: The jackets are marketed in a reuseable nylon pouch, the size of an iPhone (give or take, all coat sizes, from XXS to XXL). There's a linkable snap allowing you to carry this tiny wonder on all rugged and urban adventures.
– Hardware & Fabric: The nylon is durable and stitched well. Points of consideration, harness and waist attachment, are covered to keep as much draft/dirt/moister from getting through the jacket as possible. The lightweight thin nylon is great and allows for comfort if thrown over a sweater or tee – making it awesome to use in a number of environments and settings. Available in a selection of colors and patterns, ranging from your trendy bright and cute to basic solids.
The jackets are super, but here's what I really love: the snaps. Why? They're plastic. Why am I in-love with the plastic snaps? Plastic doesn't conduct temperature the way metal does. I really like this because the animal won't feel metal pressing through their coats, possibly causing discomfort in colder seasons. Also, plastic snaps are really easy on any hand strength and totally securing. Everybody wins!
The last notable? It's the return of the soft velcro! We know how I feel about this, I love it! Totally comfortable for the dog, AND, allows for more neat folding and stowing when the coat is in the pouch.
Cons: Wrinkles: if you don't fold the jackets neatly, you will get wrinkles. The more solid the pattern, the more striking they are. Not big on folding? Get a busy pattern. Tolerance to water is not exactly the best. These soft shells are great for handling minor flareups of weather conditions, but if you're looking for something more focused be sure to check out the other products by RC Pets!
Overall: If my only 'con' is that it wrinkles, obviously this product has nothing to really to complain about. Though I only reviewed a minor piece in this whole line, after suggesting and seeing the benefits of the RC Pets Collection over the years, it really is super at handling and making the best out of all types of walking weather.
Where To Buy? Locally, at Pampered Pets of Westmount Boutique or consult the "Find a Dealer" page on the RC website! 🙂