OMG! This press release came to the MDB Mailbag, and we absolutely LOVE it!  We'll be getting a Litterfish for an upcoming giveaway in November – so, keep watching Montreal Dog Blog for your chance to win! 
LOS ANGELES (August 14, 2012) IOVO Designs, an innovative new design company, announces Litterfish, a groundbreaking cat litter box that is both attractive and functional. Litterfish will change the way pet owners and interior design enthusiasts deal with cat's unsightly litter boxes. Litterfish is now available for pre-orders at www.iovodesigns.com at a launch price of just $159.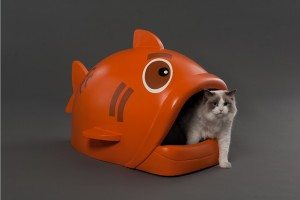 Who better to bring Litterfish to life than Hollywood creative professionals who have been instrumental in bringing Hollywood films and comics to the silver screen? Litterfish is the brainchild of acclaimed Cinematographer Robert Brinkmann (The Rules of Attraction, Encino Man, The Cable Guy, "U2's: Rattle and Hum," ) and Comic Artist Dan Panosian (Marvel Comics, Kung Fu Panda, "Duke Nukem") who worked together produce this revolutionary product. No longer will cat owners relegate plastic litter boxes to the closet or guest bathroom. Litterfish is both utilitarian and attractive, and easy to use.
Litterfish functions like a typical cat litter box. The design contains a custom shaped bottom pan, which holds the litter and can be used with a cat litter box liner, and a separate cover, which in this case, is shaped like a fish.
The story of this cat litter box actually began years ago with Brinkmann channeling his passion for architecture and design into an idea for a new teapot. After sourcing the concept for the teapot, he quickly realized, that he had bitten off more than he could chew – temperature resistant glass, steel and plastic in custom shapes and all combined in one product was simply too complicated and expensive to produce for someone who had never done it before. So he set out to do something simpler and focused on another household product: cat litter boxes. As a cat owner for years, he had always been embarrassed about the ugly plastic contraptions sitting in the guest bathroom. Why not improve those?
Brinkmann came up with the idea of making the litter boxes fun to look at. "The humor of having a cat walk into a fish appealed to me and I needed to come up with a character. I approached my friend, Dan Panosian, who is a comic book artist and designer with experience in product design" After the design was completed, they turned to artist Gene Cooper, who worked on such films as Thor, Iron Man, and Spiderman to name just a few. Cooper sculpted a life size version of Litterfish out of foam. This solid foam sculpture was taken to a special effects supervisor to have a cast made and through roto-molding produced the first prototype.
Though it was made out of different materials and much too heavy, Brinkmann was able to use it for a real life test with his feline product testing team, Chloe and Pearl. Chloe and Pearl immediately took to the Litterfish and went in to do their business as soon as it was set up. A scenic painter was contracted to paint and decorate the Litterfish.
Brinkmann brought Pearl, to a photography studio to get some product shots, and also had a scan made of the final design for the CAD engineering, which was necessary to find a factory and get accurate estimates for machining the molds and producing the litter boxes. A visual effects house, which usually does scans of actors' faces, scanned the prototype and delivered a 3D model, which allowed Brinkmann to meet with manufacturers and source the right factory and materials to make the highest quality version of the Litterfish.
Easy to clean, Litterfish is available for order online at iovodesigns.com.
For more information go to www.iovodesigns.com.