Montreal Dog Blog would love to shake your paw at the Beaconsfield Pet Fair and Adoption Day, slated for Saturday October 20th INDOORS  at Le Club, West Island:  205 Alton Drive, Beaconsfield.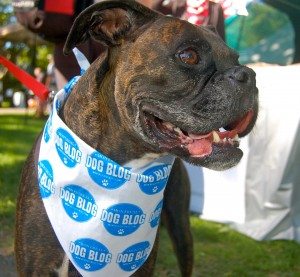 In addition to meeting lots of adoptable pets, it's your chance to ask questions and learn about various rescue organizations. There will also be pet-related items to get your paws on and lots of excellent vendors on site!
At our booth, you can snag one of our signature doggie bandanas – and on of our brand new "Breed Bans Blow" stickers!  Free!  (while quantities last).

We're SO excited to have the incredible 3D artist (and pet lover), Chalkmaster Dave at our set-up! He recently gained national exposure for his chalk artwork of Jack Layton in Toronto and he is graciously donating his time to create a fantastic 3-D work before your eyes at the Pet Fair.  Bring your camera along – because you'll want to pose with it!! Come check him out right beside our booth!
Click the poster below for more details!
How much fun do we have? Check out some pics from last year!