We've got winners! We've got winners!
CONGRATS TO: 
Sandra Cordileone and Elaine Turchyn! Who each won a $25 gift certificate from petbling.ca! BTW, until the end of this month all MDB readers  can receive 15% off their entire purchase at PetBling.ca.  You just have to enter MDB15 in the Gift Certificate field to receive your discount! 
PetBling.ca is a 100% Canadian company based out of Newmarket, Ontario!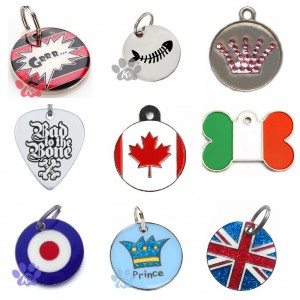 The whole idea for PetBling.ca started when owners Mike and Yvonne tried to find a particular designer pet ID tag for their dog. They had trouble finding Canadian sites that carried the types of tags they were looking for.  Websites based outside of Canada added shipping, taxes and brokerage fees – and the cost more than doubled! Thus, PetBling was born.
PetBling carries a wide variety of bling from engraved cat and dog tags, to barrettes, bows and charms!  They ship to Canadians FROM Canadians – with free shipping! And for a limited time, no taxes either.
Now, you can win one of 2 $25 gift certificates to shop for anything on the PetBling website!
How to win?  Just enter your info here!  Good luck!  NOTE: This contest is open to entries across Canada! 
p.s. – PetBling also has a Facebook Page! 
(winner will be selected via random draw on September 24th)