PetitsPawz
 is officially kicking off our first ever bottle drive for the kitties! Join in on the fun! 100% of the proceeds will be going towards the cat's veterinary care expenses.
There are several ways to take part:
Collect:
You are invited to start collecting bottle and cans starting today!  We can provide a flyer document to those who wish to go door to door to collect as well as those who would like to put flyers up at certain locations (example: work break room).
From the week of October 6th-13th you can either
DROP OFF
your collected bottles to:
1125 Moffat, Verdun
or
contact us via email (
info@petitspawz.net
) for a
PICK UP
!
Volunteer:
Saturday, October 6th from 12p.m -3p.m
Meet-up to distribute flyers advertising our upcoming bottle drive.
Start Location: 1125 Moffat, Verdun
Saturday, October 13th from 12p.m – 4p.m
Our official bottle drive will take place in Verdun.  We will be collecting bottle and cans that people will be asked to leave on their front porches.  This is great way to get the kids involved in volunteering, as we will require some energetic people and they have plenty of it!  We will also need chauffeurs to help with the transportation.
Start Location: 1125 Moffat, Verdun
WE WILL COLLECT:
plastic bottles, aluminum cans (marked REFUND please) and beer bottles
Throughout the duration of this event, we will be posting updates of how many bottles and cans have been collected to date. The volunteers are encouraged to keep track of individual amounts of bottles and cans collected and can post updates on the facebook event page. We encourage everyone to join in!  The updated total will be posted every 48hrs.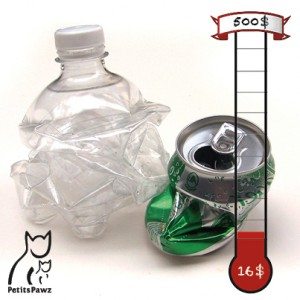 OUR GOAL IS TO COLLECT A TOTAL OF $500 DOLLARS WORTH OF CANS AND BOTTLES!!
With your help, we can surely surpass this goal!
Sound like fun?
TO SIGN UP: SIMPLY JOIN THIS EVENT PAGE INDICATING TO US IN A MESSAGE WHAT PART OF THE FUNDRAISER YOU WOULD LIKE TO TAKE PART IN.
To schedule a drop off or a pick up during the week of October 6th-13th send us an inbox message through facebook or email us at info@petitspawz.net .