by MDB Rescue Blogger, Liliana Danel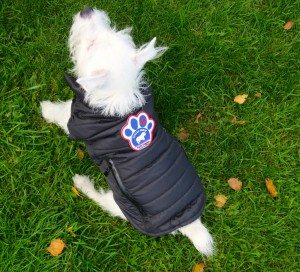 Pitou Minou Et Compagnons invited Montreal Dog Blog to visit their awesome location on Queen Mary Boulevard.  My rescue pup, Nanners, my husband and I were glad to visit the pet food and supply store and we discovered the great vast selection available. As we walked in we were greeted with a smile and for sure Nanners started pulling on the leash when he saw all the different toys available (For a video tour of our visit – scroll down!)
About the Owner
I got the chance to talk to Josh, owner and manager of the Queen Mary store. When I learned that the owner of the franchise was there to meet me and talk about his business, it showed me that not only is he interested in his clients but that he is proud of what he stacks up on the store's shelves. This month, they will be celebrating their two-year anniversary. Josh explained to me that he loves what he does and that he is happy it has been two years of serving clients and their furfriends. They have a mixed clientele; they have been at the service of small dogs to big dogs of any breed!  As a matter of fact Josh is the proud parent of three pups and one of them is the official greeter of the store.  His name is Boomer.
About the Food and Staff
Josh's main goal as manager is to provide his customers with good service and quality products. The food sold at Pitou Minou Et Compagnons is holistic food. He explained that the whole staff of the store is very knowledgeable on the topic of a holistic food diet. They have all been at pet food seminars given by Chantal Robinson of Kilookas. The team of Pitou Minou Et Compagnons has been serving clients for over a year. Josh believes in one-to-one personalized service and the team of Pitou Minou Et Compagnons enjoys their job so much that serving the client and their pet is more than just a walk into a store and then pay at the cash register. The team believes in being friendly, open to questions and to give helpful advice to their customers.  At Pitou Minou Et Compagnons, people can find food for their companion animals that are made of fresh grains like oatmeal, barley, lentils or peas. Therefore, people will not give their best friend food that contains fillers like corn or wheat that are starches and can turn into sugar, which can lead to weight gain; obesity that in the end can lead to diabetes.
Rescue-Minded
But it is not just all about the dogs at Josh's store. The day that we were there, there was supposed to be a cat adoption clinic for Cause for Paws. It was cancelled because of the rain that day. So Nanners missed out on getting up close and personal with the kitties. Josh explained to me that they hold an adoption clinic at least once a month. I asked him if people would come into the store expecting the sale of animals. He told me that people do come into the store looking to buy an animal. Josh said he does not believe any pet retail store should sell live animals. He believes that most of those that sell dogs or cats, get them from puppy mills or kitten mills. He always gives advice for people to look into visiting animal rescues when looking for a pet or looking into what makes a reputable breeder and then finding one.
A Wide Selection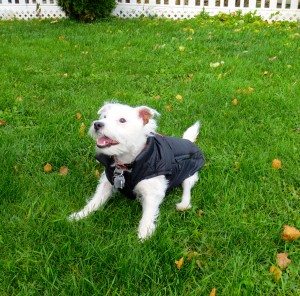 Pitou Minou et  Compagnons Queen Mary, offers an extensive selection of products for exotic animals. Ferrets, bunnies, hamsters and birds can find the food they love and products that they will enjoy. The only thing that they don't carry is reptile products. But, people are sure to find all they need for their companion animals plus great service. They do not offer grooming services but they do give nail-clipping service three times a week. Since they have such personalized service, they have a great computer system that keeps track of the customer's purchase.  Why keep track of the purchases? Because Pitou Minou Et Compagnons rewards customers.  After purchasing 8, 9 or 10 bags of a certain name brand, customers can get the product for free. People can also collect Airmiles with their purchase! By the way, did I say they provide delivery?  Yes they do!  As long as people live within their area they can take the pooch's favorite food right to their home. Heavy dog food bags can be a strain for some people and the winter is coming soon; Josh thinks about the customer and is willing to deliver.
A Perk for MDB Readers! 
If you visit the Queen Mary location (5326 Queen Mary) and mention at the cash, that you read about Pitou Minou on our blog – you'll get some free liver treats samples!  Offer valid until November 18th.
Locations 
Pierrefonds readers, if you would like the same personalized service and great food for your companion animal, be sure to visit the Pitou Minou Et Compagnons at 14905 Boul. Pierrefonds. Josh owns that store as well. Since he can't be at two places at once, Vanessa will be glad to tend to your pooch's needs. She has been working at that store for over five years. She has the heart and the knowledge to provide you and your cuddly critter with great advice and products.
MDBr's go and visit Pitou Minou Et Compagnons at their two locations and see what a great store is waiting for you and your best friend! Don't believe me? Check out the following homemade video of the day we spent with Josh!
Find them on Facebook click here
Click here for the Global Pet Food site
5326 Queen Mary
Montreal, Quebec H3X1T7
Phone :  (514) 482-0100
Email :  queenmary@pmcglobal.ca
Hours
Mon – Wed:  09:30     –    18:30
Thu – Fri:     09:30    –     21:00
Sat – Sun:     09:00     –   17:00
[youtube]http://www.youtube.com/watch?v=TZpW2xkgyuw[/youtube]