Are you involved with a local animal rescue? If so – you could receive a FREE banner ad in our 2013 calendar!
Montreal Dog Blog and Guardian's Best are offering a lottery for local animal rescues to be seen in our  2013 fundraising calendar!
Get the details on our fundraising calendar here. 
If you are a rescue, get info on applying for the Grant money here.  (Deadline is Nov. 9th)
---
The Banner Ad 
We have reserved 13 spaces (Dec 2012 – Dec 2013) to promote a local rescue.  You can see the ad space at the bottom left, here (click to enlarge):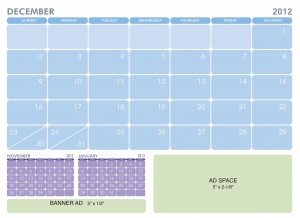 ---
The Specs 
Your banner submission must be:
 5 inches long by 1/2 inch wide 

 300 dpi 

 Any images must be hi-rez. Though, for clarity in this size of space  – it might be best to use text only

 There are no rules as to the content.  Some basics you might consider:  your name, website, contact information, perhaps a tagline 
---
The Deadline 
---
Banner ads that will appear in the calendar will be selected by random lottery from all of our submissions! (note: you can not select the month it will appear)
 There will be 3000 copies of the calendar in circulation – and your ad is free!  So, well worth it to send your banner along! 🙂