Last Saturday, December 1st – MDB partnered with Guardian's Best to throw a party for the rescue community and their supporters! Below is a longer version of the Thank You Note included on the back of our 2013 calendar from MDB creator, Nat Lauzon.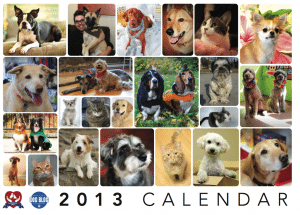 In 2008, I volunteered for the first time in the wake of a huge puppy mill seizure near Montreal.
Nothing could have prepared me for that first experience.  Rows of cages, stacked 3 high, each one housing a living, breathing creature that hours before, existed in darkness, disease and death in a puppy mill.  Now, here they were – barking, terrified, confused – covered in fleas and feces and suffering from unimaginable neglect. Digging my fingernails into my palms was the only thing that stopped me from bursting into tears.
That first day, I became acutely aware of the depth of human cruelty.  Thankfully, I also witnessed the depth of human compassion.   The volunteers I met were nothing short of amazing.  They got dirty.  They cleaned cages.  They bathed dogs. They fed, watered, walked.  They shed tears.  And then, did it all over again, hour after hour, day after day.  
That kind of effort is more than dedication. It's passion. And passion is not only a part of the volunteer experience – it's the very heartbeat of every animal rescue organization. Passion helps weather the heartbreak, the sleepless nights, the mounting bills, the dwindling funds.  The emotional, physical and financial hardships are worth enduring for the reward of helping to save an animal's life.
This fundraising calendar project with Guardian's Best Foundation is the first we have done. When we put the call out for sponsors, we were elated to hear from so many Montreal businesses that wanted to help. (So much so, that we actually had to add an extra month – December 2012!).   These calendars are now available at the many local businesses listed below, free of charge.  As you turn each page, I hope you will take a moment to recognize the businesses that support animal welfare.  The funds derived from these ads, will allow us to gift 3 Montreal rescues with $5000, $1500 and $500 grants to aid their tireless work. Though we cannot give to all rescues, monetarily – I truly hope this calendar will bring awareness of the committed efforts of all those who fight for our companion animals.   I hope it will create further community support for their fine work and be a token of encouragement to rescues in difficult times.
A personal thanks to our core team who have donated many hours of their personal time to bring this project to life.  Volunteer photographers Amy Grauer, Simone Fauque and Andrea Cook, Rescuer of the Year Event Coordinator Susanna Oreskovic, Graphic Designer Mark Tzerelshtein and especially Wallie Seto, President of Guardian's Best – who in our first introduction last winter, proposed that we work together to help pets in Montreal. This project was born of that meeting.
A great debt of thanks is owed to the amazing blogger team at Montreal Dog Blog.  I bought a URL – but they created a community.  Please take a moment to read about these wonderful people, who I am honoured to work alongside to do better for our pets.  They are the heart and soul of everything you read here every day. 
Let's make 2013 a year of change for the better.  On behalf of the entire Montreal Dog Blog team – a heartfelt thank you to our local animal rescues. Here's to a healthy and happy 2013.
 THANK YOU TO OUR 2013 CALENDAR ADVERTISERS: