(Got a product for us to review? Contact: reviews@montrealdogblog.com)
Heads-up! MDB will be giving away one of these awesome coats next week on our Facebook Page!  So, join it now – and keep watching to win!
Brrr!!!! Hey guys! The cold is slowly creeping into Montreal. Soon we'll be all taking part in an up and down dance with the cold, snow, freakin' cold, more snow, cool, rain, and DEATHLY COLD, ice.
That being said, as Canadians and Montrealers, cold temperatures are a part of who we are – making embracing the cold a piece of cake (or pie). With an enjoyment of the outdoors and the help of a number of layers, we can enjoy our country and our provinces' beauty.  Now, while we humans enjoy a wide range of reliable fashions to keep us warm – our pets are not graced with that privilege.  Apparel for dogs is kinda like dealing with a recurring nightmare of an awkward walking dog that's shaking and cold after five minutes outside due to shoddy stitching and poor insulation. EEECCCCKKKK!!!!
You wanna know what else I think is a bummer? Shopping.  I HATE shopping for clothes. I find it annoying, frustrating, and, at times, insulting to my intelligence. When I shop, it's a military operation. I'm in and out within 10 minutes. Either executed perfectly with target in hand or abandoned with no target located. I shop with three criteria in mind: quality, lines, and utility, and this also goes for how I shop for my pets.
Like I mentioned, we people are lucky because we can rationalize and communicate how clothes feel and function on us. Our pets? Not so much. Being around animals on a constant twenty-four hour basis through all weather conditions I've become boss at dressing, fitting, and walking my dogs with or without apparel during the winter – and the coat I now implore to all dog owners in need of a wonderful winter coat is a Canada Pooch coat. A cute play on the popular Canada Goose coats, these winter jackets for dogs are phenomenal. And not just because they don't have coyote backs for a fur trim! It's because they're all faux but total real talk.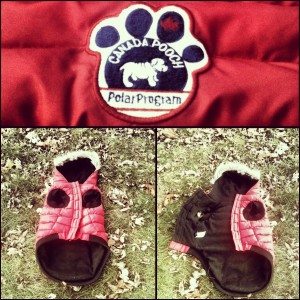 Product: For this review I knew exactly who would be perfect to test this coat on. Meet Padfoot. Pady is my eight year old Doberman German Shepherd mix. He's my baby and I love him, but he has the guts of a guppy. He's afraid of the dark and a large white rock on my neighbor's yard. He also LOOOOVES apples and sharing bird treats with my parrot. So there's that. Being part doby, he's got this really thin coat making him totally not built to endure the cold and being part shepherd, he's got a really gangly body, making jackets not an easy fit … Canada Pooch to the rescue! The coat fit Pady, he wore it well and with confidence, and all the girls kept looking at my handsome boy in the sharp looking jacket. BEST PART: the jacket stayed on him while he goofed off and he was warm with a happy tail wag – all while avoiding the glare of the evil white rock.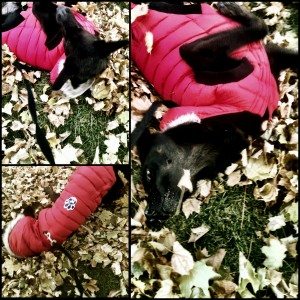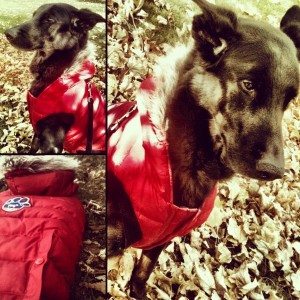 Pros: Canada Pooch is adorable. I checked out their site and I fell in love with Lily. SO CUTE. Go look at Lily. You'll smile and it'll feel good. Anyway, Canada Pooch declares that they're "designers of high quality, fashionable and functional pet outerwear and accessories. Helping your pooch brave the rain and cold in style is what they do best."  Okay, so I have a crush on Canada Pooch and it's not just because of Lily. Here's why, Canada Pooch claims that they are guided by three main principles: style, function, and craftsmanship and they totally back their claim with each coat they sell to you.
Soft velcro, durable, well stitched and rich-colored fabrics with warm fleece lining. These jackets fend off rain and snow without getting soaked through. A back pocket with reliable snaps, great for baggies. These coats are designed for you and your dog in mind. I adore that these jackets also have waist and "arm" lining to ensure extra warmth and comfort. Amazing. The detail put into these coats recognizes that once a dog stops moving, he's going to chill faster while also recognizing that once a dog starts moving he's gonna move in every which way. These jackets keep movement unrestricted, keeping your furry loves' stress levels down and fun levels up!
Cons: None. I'm serious you guys. I love these coats. 110%.
Overall: Canada Pooch is awesome because while they don't denying the charm of their line, they uphold the craftsmanship and functionality of their products. You can tell these coats are designed by animal lovers, ones that strive to develop innovative, forward-thinking products that guarantee a positive experience for dogs and owners alike. And here's why I'll wear a Canada Pooch coat over a Canada Goose coat any day: Canada Pooch apparel and accessories do not contain any animal products. No coyote backs! YAY!
Price:  From 39.99 
Where to buy:  Consult the website's handy dandy store locator!