The following is a courtesy post. Please contact the info below, not MDB for further information.  We hope Paco is reunited with his owners soon! 
Our beloved dachshund, Paco, was lost on Nov 6, 2012 in the Snowdon area of Montreal.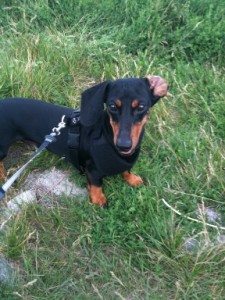 Paco has epilepsy, and sooner or later he'll end up at a veterinary clinic. I'm contacting all veterinary clinics on the island, and around Montreal.
Paco is like a member of the family, he's like a child to us, and we're suffering because of his absence.  (please see details below)
---
Paco is a miniature dachshund, black with tan points. He was brought to Canada from Poland, by my wife, in February 2010.
He has a tattoo in his left ear that says: G186
He also has a microchip, on the left hand side of his neck. The chip number is: 941000011518660
He was born on Oct 21, 2007
He has all required vaccinations, and they're current. He hasn't been fixed.
Because of his epilepsy, we're very afraid for his health, or even his life.
Please, please, have a lookout for our dog.
If anybody shows up at your place with a miniature dachshund, with a tattoo in his left ear, or if you can scan his microchip, I'm pleading with your to call me right away, at 514.777.4914, or email me at  jscoop.ca@gmail.com.
We're desperate to recover our Paco. Please, help us do that.