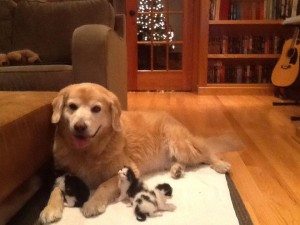 For Sam -The dog I never wanted.
You were the foster failure I didn't want to fail. Another unmanageable golden in the house, one who had anxiety issues?  No thanks. There you were tied to a chain freezing during winter nights, exhausted in the heat during the summer with no shelter.
Like so many others you were the novelty that wore off quickly. The one purchased to keep the cats out of the yard. The one the kids hosed so much you are still to this day mortified by water. We gave $20 for you so your "owner" could go out drinking that night.
We thanked your guardian angel, a next door neighbour who watched over you for months and you jumped in the car and never looked back. I wanted you safe and well of course …but I never imagined you would stay with me forever. The dog I never wanted.
And here we are…ten years and a thousand tears later. You were always known as the hyper one. Bear was handsome and aloof, and you were the one who slept with your eyes open in case I left the room. You watched and waited while Bear became ill and pass away just weeks ago.  He didn't have the strength to fight like you do. He always got all the attention but you didn't mind. I know you miss him terribly .You lay your head in my lap to comfort me when it should have been you who wanted the comforting.
Until we finally got around to you. And now we are all about you. What you eat, how you eat it. Did you take your pill, do we increase the pills, let's try this pill. And these awful nosebleeds..
You never wanted me out of your sight all these years now I don't want you out of mine. I am grateful to have you at my feet at work and I look forward to home cooking meals for you at night. I lie awake listening to your breathing and while not laboured it is becoming more evident that your tumour is spreading.
When most reconciled you would never see this Christmas Day, I knew you would. You are fighting every day to stay with me. I see that. And while Christmas means nothing to a dog, it is a landmark day for us because you are here. But I know your days are short. We have met so many people and dogs on Facebook who have gone in these few months …Sadie, Tucker, Happy, Max, and Meggie.
But here you are my Christmas gift. And Christmas gifts come in all shapes and sizes. Some are material but the best are free. And some teach.
A lesson learned in living one day at a time. A lesson in patience.  A lesson in letting people and animals know they are loved before it's too late. So I write this before its too late so everyone will know what a good boy you are and how much I love you. You are the happiest and most grateful dog I have ever known. Your tail has wagged every day , all day , all these years.
I thought losing Bear was going to be my heartbreak, but I know now it will be you.
Merry Christmas my little soldier, the dog I never wanted. Keep fighting. Stay with me a little while longer.
Does your dog have a nasal tumour like Sam, or have you had a dog pass away from one?
 Please join Rudys Story Canine-Nasal Cancer on Facebook or email me for more information: terry@montrealdogblog.com 
TPK ‎    "In rescuing animals, I lost my mind , but found my soul." ~anonymous