by MDB blogger and veterinarian Dr. Amanda Glew 
For those of you who get out and socialize your dogs routinely, you know about this. For those of you who sometimes walk your dog, on or off leash, you may know. For those of you believe dog walking is relegated to fenced in yards, you won't know. And I bet I can count on one hand how many people who don't have dogs, have a clue about this.
I am talking about the dog walkers' Christmas tree.
Every year since I moved to Hudson, I would notice one tree in the middle of the woods mysteriously decorated for the holidays. It seemed magical to me that people would take the time to bring out baubles and golden chains, sometimes with their animal names on them, and place them on a tree. There were even dog licenses, and rabies tags in the tree. As the walking paths have changed over the years, so have the trees.
This year it seemed that no tree was going to be chosen. Then one day, a lovely Scotch pine was suddenly adorned with the famous red balls. I was so excited! I bribed my young adult children for a walk, and promised them a special treat. I am not sure if they were a little disappointed with my idea of a treat, however, they behaved admirably and assured me they were impressed.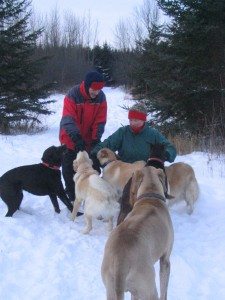 Last New Years Day, the usual dog walkers were out in the freezing rain. As walkers congregated around the infamous tree, one of the walkers showed up with a Tim Hortons jug'o coffee, and the accompanying donuts that came with it. People partook with a cup of java, some taking a donut, some not, while all the dogs sniffed, lifted legs on the tree, and generally wished all a very happy 2012. Then someone showed up with champagne, and plastic cups! At one point, there were perhaps 20 or so dogs, some mongrels, some with papers, some very well behaved, some less so, but the congregation was in a festive mood, and good feelings pervaded the group. Of course, they were all on leashes, following Hudsons by-law (not!).
I have often been asked why I don't go to church. As I age, and seek out more spiritual answers, I sometimes feel guilty that I don't feel a need to sit for 1-2 hours a week on a Sunday to thank some greater being for all that we have. Then I feel annoyed that I feel guilty, because only my mother is allowed to make me feel that way (isn't that what mothers do by definition?).  Having numerous ministers as clients, I have come to know them personally. On one of my less busy days at the clinic, I asked one of my favourites his thoughts. After a few minutes without a reply, I was sure I was going to get a lecture. Instead, he told me that church, by definition, is a meeting of the people with similar spiritual interests, in the hope to make people unified and more accepting of each other. So you don't need to go to a place to go to church, he replied, as long as you try to follow a good spiritual leaders teaching – be it the Bible, the Koran, the Torah or another, and enjoy fellow human beings.
Some people may find this in their work, some people in their exercise group (well, at least ours is in the church hall!), but I know now I find it in my dog walking. As we join together to enjoy the beauty of the outside, in all of the weathers a greater power can provide, in all of the seasons, with all of the colours, I know this is my church. For this, I am very grateful and I wish all a wonderful new year.